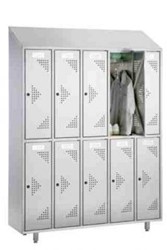 Clean storage takes quality control to the top level of cleanliness for any meat or snack processing plant," explains Jeb Supple of Carometec.
Peosta, IA (PRWEB) August 14, 2013
As foodborne illness prevention continues to make headlines throughout the United States. As Food and Drug Administration standards and regulations continue to increase, processors are actively seeking new ways to improve cleanliness in manufacturing facilities and production plants. The latest trend is the implementation of clean storage systems as a means to reduce contaminants within the work place.
Clean storage systems can play a key part in helping to keep work environments well organized while helping to prevent product contamination and the spread of foodborne illness. If there is limited access to a "clean area" where workers boots, gloves, helmets, aprons and other personal hygiene articles can safely be stored, employers are running a very real risk of spreading contaminates to those very hygiene articles that are so instrumental in the production and preparation of consumer goods.
Carometec and ITEC/ATTEC Company Group are on the cutting edge of providing top of the line storage solutions for companies needing to store boots, aprons, helmets, and gloves – almost everything used in the production process. Carometec manufacturers storage systems that can range from basic boot storage racks to units that implement built-in dryers to expedite the sanitation processing, ensuring that the necessary equipment is ready for use during the next shift. Their wall mounted hot air dryers can help save space and keep locker rooms dry while holding up to fifty pairs of boots. State of the art stainless steel benches that provide additional storage and sloped roof locker systems are a great starting point for designing a "clean area".
"Clean storage takes quality control to the top level of cleanliness for any meat or snack processing plant," explains Jeb Supple of Carometec. "It's important to remember that employee work spaces such as locker rooms,are just as important as the processing plant floor."
As FDA requirements for food processing plants continue to become more demanding, the need for clean storage systems will continue to grow. As long as companies like Carometec continue to provide the necessary sanitation equipment and systems, manufacturers will be able to move forward in the ongoing fight against foodborne illness in the United States.
About Carometec: Focused on the sanitation needs of food processing plants worldwide and the seriousness of foodborne illness prevention, Carometec's state of the art customizable sanitation systems help assist all food processing plants in meeting demanding quality assurance needs while enhancing peace of mind. For more information visit http://www.carometecusa.com.