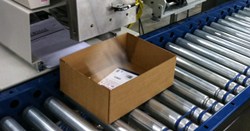 LitPack™ utilizes the industry's fastest on-demand laser printing technology to print, fold and insert 8.5" x 11" packing sheets directly into the shipping carton in less than 4 seconds. This is typically 300% faster than manual operations.
Woodridge, IL (PRWEB) August 13, 2013
Numina Group, a leading warehouse control system and material handling integrator, designs and implements lean, optimized turn-key distribution operations and development of cutting edge automation technologies to streamline pick, pack, and ship order fulfillment processes. The LitPack™ PFI (Print, Fold, Insert) family of packing automation products increases throughput, eliminates errors and reduces labor in Pack and Ship. Packing is frequently the number one bottleneck area causing customer dissatisfaction due to delayed shipment and improper documentation.
Highly competitive e-commerce internet fulfillment requires the technology to ship orders faster while lowering operating costs. LitPak™ is the solution to this problem. Dan Hanrahan, President of Numina Group said that "LitPack™ utilizes the industry's fastest on-demand laser printing technology to print, fold and insert 8.5" x 11" packing sheets directly into the shipping carton in less than 4 seconds. This is typically 300% faster than manual operations." For high volume DC operations, multiple in-line LitPaks™ can be integrated into an automated conveyor line to process 30 or more shipments per minute.
The Lit Pak™ family provides a range of options - from simple operator assisted pack sheet print/validation for use at a void fill and taper station to a fully automated process that auto prints, folds and inserts documents into totes and shipping cartons. Additionally, literature inserters can be combined with LitPack™ to automate inserting sales and shipment specific documents or promotional literature.
Features/Benefits:

"Error Proof" and automate pack and ship document generation with integrated barcode scan validation
Insert print on-demand of order documentation from 4" to 28" carton heights
Reduces 20 to 50 seconds of labor from each order shipment
Increase accuracy and throughput while reducing labor costs
Eliminate the bottlenecks in the packing area to accelerate your order fulfillment profitability
"Supply Chain and Marketing Executives recognize that their first opportunity to touch the customer after the order placement is the arrival of the shipment and the documents presented at the opening of the carton. A high resolution laser printed packing sheet provides the opportunity to print the company logo, clearly describe the product ordered, provide the ability to convey an appreciation of the client's order, promote future sales opportunities, as well as offer removable coupons and information. Prior to the LitPack™ technology, you couldn't do that without creating a bottleneck in packing, or by increasing labor costs", explains Hanrahan.
In addition to literature and packing documentation automation, Numina Group provides the technology and expertise to automate the entire order fulfillment pick, pack, and ship process of printing, folding, inserting, and applying documents to either the inside and/or outside of the carton. Conveyor systems with in-line automation, including print and apply labeling, combine with Lit Pak™ to process 700 or more orders per hour in B2B or B2C ship operations. Numina Group's technologies reduce over 50 seconds of labor from every order shipment.
Numina Group's distribution and order fulfillment automation technologies are powered by Real-time Distribution System, RDS™ a Tier 1 Warehouse Control System, (WCS). RDS™ directly connects to existing ERP and Warehouse Management Systems, (WMS) to automate current or new distribution centers. It is a highly modular and scalable WCS with unsurpassed performance; proven in hundreds of distribution centers. RDS™ automation modules include receiving, order picking using voice and pick to light, intelligent barcode & RFID directed conveyor routing, sorting, packing, and print and apply labeling.
About Numina Group:
Numina Group has over 27 years of experience in Define, Design, and Implementation of warehouse and distribution automation expertise. Numina Group's RDS™ (WCS) family of automation technologies delivers process improvements for manufacturing and distribution operations worldwide. Services include consulting/design, control systems, voice directed picking, pack and ship order fulfillment automation, and providing turn-key supplier automated distribution operations that eliminate bottlenecks, excessive labor and improve distribution operation profitability.
To learn more about Numina Group, go to http://www.numinagroup.com/.