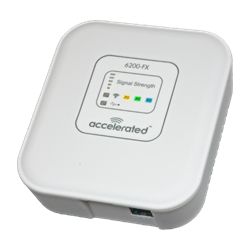 By utilizing the latest USB modem technology, customers can easily upgrade modems or switch carriers based on their business needs.
Tampa, Florida (PRWEB) August 14, 2013
Accelerated Concepts, Inc. a leading provider of wireless network management software platforms and innovative wireless hardware, today announced it's new Secure Cellular Router, the Model 6200-FX. The 6200-FX is the next generation of the company's cellular router platform succeeding the NetBridge FX and NetBridge SX.
The 6200-FX is a new design and contains a number of features not found in similar products. The 6200-FX provides:

Multi-carrier support
1 - 10/100 LAN port
2 - USB 2.0 ports for cellular WAN connectivity (one internal and one external)
Automatic recognition and connection of most cellular radios
Internal radio compartment for security
Unique mounting capability for office locations
Passive PoE
The Accelerated 6200-FX allows any Ethernet device to utilize cellular wireless data for either primary or backup connectivity. The unit can operate in either a Transparent Bridge or Router mode. The 6200-FX supports: LTE, HSPA+, and EVDO utilizing the latest modems available from all major carriers. The unique design of the 6200-FX provides users with enhanced flexibility and security. By utilizing USB technology, customers can easily upgrade modem technology or switch carriers based on business needs. The primary USB modem is housed inside the 6200-FX and easily secured to prevent tampering or theft.
Like all of our products, the new router is managed using Accelerated's cloud-based management portal: Accelerated View™. Through our portal, individual or groups of 6200-FX devices can be centrally configured, updated, and controlled. The portal displays the status of all 6200-FX's and can be viewed in tabular form or graphically on geographic maps. The Accelerated View™ dashboard displays all devices in alert status and alert notifications can be directed to e-mail and / or SMS.
It is not necessary to co-locate the 6200-FX with other telecommunication equipment as the unit is designed to be located for optimal cellular signal strength. The built-in signal strength meter and optional temporary battery pack can be used to identify the optimal installation location. In addition, the 6200-FX can be powered directly using the included 12V power adapter or over Ethernet Category 5 cable via Passive Power over-Ethernet (PoE) and the included power injector cable. A customer may also use the 6200-FX to quickly create an Internet access presence for connected and wireless devices where a high-speed wired or WiFi connection is not available.
"We are very excited about the introduction of our latest generation secure cellular router. This will give our enterprise customers a scalable secure device that can be used in almost any location. That combined with our cloud-based management portal gives our users the ability to setup and manage a site almost instantly", said Jason Dorough, Accelerated Concepts Vice President of Sales.
ABOUT ACCELERATED CONCEPTS, INC.
Accelerated Concepts, Inc. is a global provider of VPN and wireless hardware and management software. Based in Tampa, Florida, Accelerated Concepts was founded in 2006 with the creation of our flagship product: NetBridge. The company has since added to its offerings to include WIFI extension hardware (NetReach), network management software (Accelerated View™), and virtual private network (VPN) technology.