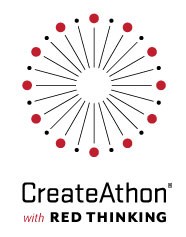 Our company has always been heavily invested in the non-profit community and I encourage my staff to donate their time to organizations that personally inspire them. This event allows everyone to work together."
South Riding, Virginia (PRWEB) August 12, 2013
Eight of Northern Virginia's hard working non-profit organizations will receive a free creative lift this September 20th, when Red Thinking, LLC starts the clock on 24-hours of creative marketing development.
CreateAthon, a charitable event begun in 2002 by Riggs Partners, a South Carolina-based creative marketing consultancy is now a national event that encourages similar firms to use their creative talents to benefit local organizations.
Red Thinking was selected by Riggs Partners to bring the charitable event to Northern Virginia.
"We're honored to be part of this national creative movement," says Jen Sterling, Owner and Creative Director of Red Thinking. "Our company has always been heavily invested in the non-profit community and I encourage my staff to donate their time to organizations that personally inspire them. This event allows everyone to work together."
Earlier in the year, a call for submissions was sent out to area non-profits and each organization was asked to submit a wish list of marketing needs. "Non-profits have the same needs to reach people as for-profit businesses with marketing materials, websites, dynamic logos, and brand messaging," explains Sterling adding, "the major difference is limited resources both in time, money, and creative talent."
Red Thinking has selected 8 area non-profits with a variety of marketing and design needs. "We had a terrific list of agencies to choose from," says Sterling. "Each company does something unique for the community. We evaluated each company's creative wish list and our own resource pool and felt we could provide 8 agencies with something that they could truly use."
This year's non-profits that will benefit from the CreateAthon are:

HealthWorks for Northern Virginia
The III B's Foundation
Medical Care for Children Partnership Foundation
Northern Virginia Therapeutic Riding Program
Preemies Today
Rotary Club of Ashburn, Virginia
Smashing Walnuts Foundation
Volunteer Fairfax
This is a volunteer event and Red Thinking's design and web development staff are committed to putting in their time and talent. Additionally, Home Row Editorial, a Northern Virginia content development firm that partners with Red Thinking will be joining the team to round out the creative design and direction with content and messaging.
About Jen Sterling and Red Thinking, LLC
Jen Sterling is a well-known business leader and high-energy volunteer. She is a graduate of Leadership Fairfax and enthusiastically serves on several boards in the Northern Virginia area such as Reston Hospital, Leadership Fairfax, Fairfax County Parks Foundation and numerous small business advisory boards. Her community leadership positions include: past Chairman of the Board of Success in the City, past Chairman of the Greater Reston Chamber of Commerce, past Chairman of the Loudoun County Chamber of Commerce, and past Chairman of the INC.spire incubator program
Red Thinking's award-winning visual design and full-service marketing and branding solutions address the demands of businesses in the metro Washington, DC market.
For more information on Red Thinking, visit them online at http://www.redthinkingllc.com.
About Riggs Partners and CreateAthon
Riggs Partners is a creative marketing consultancy that specializes in developing cross-channel communications programs for socially conscious companies and nonprofit organizations. Visit the company at riggspartners.com.
Riggs Partners expanded its local CreateAthon event into a national program in 2002. Since that time, more than 77 agencies in the US, Canada and Puerto Rico have participated, helping more than 1,250 nonprofit organizations by delivering 3.100 projects valued in excess of $15 million. "The work of CreateAthon is more important than ever," said Teresa Coles, Riggs partner and co- founder of CreateAthon. "We hope more agencies across the country will join us in this effort."
For more information on the national program, please visit the web site at http://www.createathon.org.