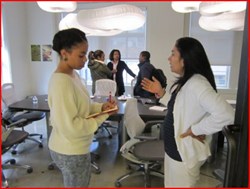 A belief in diversity is a belief in our future
San Francisco, CA (PRWEB) August 13, 2013
San Francisco-based multicultural advertising agency, Améredia, has just wrapped their second successful summer of month-long multicultural workshops for the American Association of Advertising Agencies' (4As) Multicultural Advertising Intern Program (MAIP). The workshops are held in partnership with 4As to promote and foster multiculturalism, inclusion, and diversity in the advertising industry. This cultural immersion has become a significant element of the program as it provides general market-focused college students an opportunity to broaden their scope of industry knowledge and engage in what is undoubtedly the future of advertising.
"A belief in diversity is a belief in our future," said Pawan J. Mehra, founder and principal at Améredia, "The MAIP initiative enables us to support and connect two causes dear to us – diversity and advertising. We are thrilled to be a 4As MAIP agency partner." Améredia and 4As are industry pioneers who share a common desire to include, connect, and grow niche markets. Their collaborative workshops prepare budding professionals for the emerging cross-cultural face of the advertising and marketing industries. Multicultural marketing has become essential to leading brands today, and with good reason. Minority groups now represent nearly $3 trillion in buying power, a number which is steadily increasing. Additionally, brands that employ culturally relevant content in their advertising are better able to resonate with their targeted audiences.
"Both Améredia and the 4A's are staunch champions of diversity and inclusion. We understand that the workforce in advertising must reflect the global marketplace if we are to create authentic messages and stories that speak to today's consumer. Our collaboration has resulted in establishing incredible opportunities for the MAIP participants. Pawan and his team have created a unique experiential learning program, designed to immerse our students in a variety of advertising disciplines which helps us to develop a fully engaged, fully prepared, talent pipeline for our agencies," said Singleton Beato, Executive Vice President of Diversity & Inclusion and Talent Development, 4As. "Working with Améredia has ignited a new dialogue about talent development practices in the Northwest and we are proud to be a part of it!"
The workshops were held throughout the month of July at Améredia headquarters. To ensure a well-rounded industry experience, the weekly workshops focused on specific agency departments such as creative, account, media, and agency management. Each workshop, of course, held a multicultural emphasis. Topics included translation/transcreation, ethnic media, grass roots marketing, integrating marketing communications, cross-cultural case study, cultural identity, and cultural insight development. Améredia mentors were glad to ignite a multicultural interest in MAIP participants and are excited to continue advancing multiculturalism in the advertising industry.
The MAIP internships and mentorships will culminate today, Tuesday, August 13th, with the 3rd Annual Face of Talent Event in New York City. The full-day symposium gathers MAIP''s 100+ interns with advertising professionals in celebration of the industry's commitment to engaging diverse talent. For more information on The Face of Talent 2013 visit: http://www.aaaa.org/communications/new_bulletin_MAIPfaceoftalent1.html.
About 4As
As a leader and influencer in the advertising industry, the American Association of Advertising Agencies (4A's) is committed to driving diversity and inclusion initiatives. Their Diversity Programs are intended to increase the representation of multicultural professionals at all levels of the agency business to better produce advertising that reflects the changing ethnic and racial balance of the consumer population of the United States. For information about these programs and how to become more involved, please visit the 4A's website: http://www.aaaa.org/.
About MAIP
Multicultural Advertising Intern Program (MAIP) provides undergraduate and graduate internships to diverse multicultural students at 4A's member advertising agencies nationwide. The program celebrates its 40th anniversary this year. For more information, visit http://www.aaaa.org/careers/maip/Pages/default.aspx/.
About Améredia
Améredia Inc. (http://www.ameredia.com) is a full-service multicultural advertising, marketing, and communications firm specializing in building brands within U.S.-based diverse communities. The agency enables private, government and non-profit organizations to connect with Hispanics, Asians, Europeans, Middle Easterners, Pacific Islanders, Africans and other diverse cultural groups nationwide. Conceptualizing culturally engaging campaigns across print, TV, radio, online, outdoors, events, grassroots and social media platforms in over 20 leading languages, Améredia has positioned itself as one of the fastest-growing diverse market agencies nationwide.