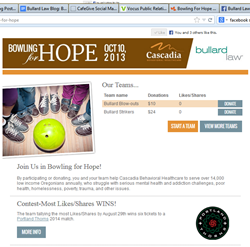 (PRWEB) August 14, 2013
Bowling is older than you might think. Like, five thousand years older.
With roots in Ancient Egypt and Viking culture, this ancient sport has brought communities together for centuries through friendly competition and the joy of taking out pins. And like all competitive sports throughout history, bowling requires die-hard determination, skill, and support from fans like you.
Bowling enjoys a rich history in our corner of the Pacific Northwest, too: Oregon was actually home to one of the nation's most popular varsity bowling programs for nearly 30 years. The sport's local history and focus on team spirit make it a perfect match for Bullard Law's innovative new cause campaign: Bowling For Hope.
Starting August 5th, 12 teams from across Portland will do battle online—and in the lanes—to secure ultimate bragging rights and support a worthy cause.
Twelve Teams, Fifty Shoes, One Great Cause
Casual rollers and ten-pin aficionados alike will be hitting the lanes this August through October as part of Bowling For Hope, a fundraising initiative to benefit Cascadia Behavioral Healthcare. The online campaign culminates in an in-person bowling showdown between participating teams on October 10th.
Bullard and Cascadia staff—along with their vendors, families, and communities—can register their teams online, raise support and give props to their team by sharing progress through social media. Twelve teams of twenty-five each will compete for top prizes, including highly coveted tickets to the 2014 Portland Thorns match—not to mention lifelong fame and glory.
With the support of their community and sponsors, Bullard Law aims to raise $10,000 for Cascadia and the 14,000 people and their families in Oregon that depend on the nonprofit's life-saving services.
A Campaign That's Right Up Our Alley
Following its wildly successful Unofficial World Series of Kickball tournament earlier this year, Bullard Law again decided to partner with us at CafeGive Social to fuel its next cause marketing hit.
To get the ball rolling, Bullard Law used CafeGive's platform to offer participating teams a fun and simple way to register, design a personalized team page, and energize their fans online. Using CafeGive's customized Donate App, Bullard Law's leaderboard page connects participating teams' pages and broadcasts each team's progress through Facebook and Twitter.
Support to Spare
By Liking and donating to your favorite team, you can help Cascadia improve the lives of thousands of Oregonians struggling with serious mental health and addiction challenges, poor health, homelessness, poverty, trauma, and other behavioral issues.
To keep participants on their toes, Bullard Law is upping the competition with online contests along the way. Prizes will be awarded to teams that generate the most Likes during Friend-Raising Month (August), and the most donations during Fund-Raising Month (September).
At CafeGive, we're dedicated to helping great causes and cause marketing with our social media apps. Like, donate to, and share Bullard's Bowling For Hope campaign to build support for community members in need, and help your favorite team vie for ultimate bowling victory.
For more information on "Bowling For Hope," team registration guidelines, and contest details, click here. You can also visit Bullard Law's website and find its pages on Facebook and Twitter to learn more about Bullard's commitment to collaboration and giving back.
About Bullard Law
Bullard Law specializes in labor and employment law - working for public and private sector employers in Oregon and other western states since 1977. Bullard Law provides services in traditional labor law, public sector labor and employment law, employment litigation and class actions, employee benefits, personnel policies and practices, and employment and non-competition agreements. Bullard Law offers extensive training programs in all areas of labor and employment.
About Cascadia Behavioral Healthcare
Cascadia Behavioral Healthcare is a major nonprofit healthcare provider in Oregon for mental health and addiction treatment services. Cascadia also provides supported housing and permanent housing to more than 600 individuals. Cascadia is unique in providing a full continuum of services to children, families, adults and older adults.
About CafeGive Social
CafeGive is the only company that combines social media marketing with meaningful, action-oriented cause marketing applications. Using our product, CafeGive Social, we have helped companies, agencies and nonprofits of all sizes connect with customers to build brand, enhance reputation, raise awareness and effect social change. Headquartered in Portland, Oregon, CafeGive is a privately held company.