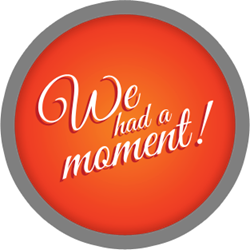 "We laughed at all the same jokes but you left before I got your name."
Williamsburg, NY (PRWEB) August 14, 2013
WeHadAMoment is a natural fit for the Brooklyn Comedy Festival. Combining human and digital interaction, WeHadAMoment helps people connect with the person they shared a moment with. Don't let that person you met in the middle of your laughing attack get away!
The first annual Brooklyn Comedy Fest will be bringing comedians, musicians and audiences together for some hilarious moments; so naturally WeHadAMoment
will be there, too. The Festival runs from August 19th through the 24th. Performances will take place at Spike Hill, Brooklyn Brewery, Muchmore's, Brick Theater, the Flat, the Gutter and Over the Eight.
About WeHadAMoment
We Had A Moment (WHAM) is the iPhone app that allows you to connect safely and securely with any person anywhere. Have you ever locked eyes with a stranger that caught your fancy, and then the moment is suddenly past, and no exchange of contact information occurred? With the recently launched free iPhone app from We Had A Moment, you can find that person again and see what potential lies ahead.
We Had A Moment safely and securely allows people to find that special someone they shared a moment with. User identities are protected; the user decides how and when they want to share more information. Registration with We Had A Moment is easy and free; to sign up visit http://www.wehadamoment.com/ or download the app in the app store: https://itunes.apple.com/us/app/wehadamoment/id589796761?mt=8.