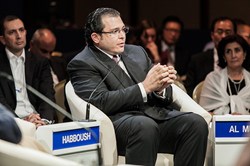 "In Basra, you do see movement of the economy. Major oil companies have mobilized there … but, our international friends do not really see what is happening. So we have a perception problem," Habboush said, encouraging more foreign investment in Iraq.
DUBAI, UAE (PRWEB) August 14, 2013
Wadie Habboush, Esq, President and CEO of Habboush Group, represented the Iraqi private sector at the Iraq-related public session at the World Economic Forum MENA 2013, held in Jordan in May.
The panel session, entitled, "Economies in Focus: Iraq," addressed the question: "How can Iraq deliver inclusive growth and development in light of favorable energy prices as well as the current political and security landscape?"
The panel included other noted figures:

Sayed Amar Al-Hakim (Leading religious and political figure)
Saleh Al-Mutlag (Deputy PM of Iraq)
Baker Al-Zubaidi (Former Minister of Finance, and Interior)
Watch video of the full session: http://youtu.be/3DLNWxmhOOU
A photo of Mr. Habboush at the event is available here: http://bit.ly/1d0pC6d
About Habboush Group
Habboush Group is a global full-service provider and integrated investor in the energy and infrastructure sector. The group is a development, management, and investment enterprise executing and operating alongside government, institutional and FORTUNE 500 partners across the Middle East, Africa, Europe and Asia. Habboush Group is a single-source of strategic investment and integrated solutions in financing, development, execution and project management. Partners and clients have come to know Habboush Group as an agile, integrated, reliable operator intent on safety, efficiency, cost saving, execution and operation of large-scale projects.
For information please correspond to the following details:
Habboush Group
DIFC
Al Fattan Currency House
Tower 2, Level 25
Dubai – UAE
info(at)habboushgroup(dot)com