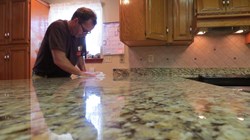 Get It Done Once, Get It Done Right!
Mobile, AL (PRWEB) August 24, 2013
Few places were immune from the global economic recession and Mobile, AL was no exception. The unemployment rate rose significantly in 2009, reaching a peak of 11.8% in January 2010. The figure remained high for almost three years but now it seems that recovery is firmly underway in the state's third largest metropolitan area.
Unemployment in Mobile has now fallen to its lowest rate in over four years, dropping to just 7.3% in May 2013, according to the US Bureau of Labor Statistics. The decreasing unemployment rate is a clear sign that the city is on its way to economic recovery – something which specialist natural stone fabricators GNL Contractors has decided to celebrate.
The company, which imports granite and marble from across the globe in order to manufacture a range of countertops, tiles and other items for the home, serves residential and commercial customers in Mobile from its base in Slidell, LA. With Mobile homeowners and house builders now looking to the future, home improvements are on the increase, and GNL Contractors is supporting them through a fantastic new offer.
With the purchase of granite countertops in one of four delightful colors, and with a choice of sleek edging (full bullnose, half bullnose, bevel, or eased edge), GNL is offering customers the choice of a 15 year sealer warranty or a free stainless steel sink. The 15 year sealer guarantees that the naturally heatproof countertops are highly unlikely to stain through spillages, with liquids sitting on top of the stone rather than soaking in, meaning they add long-term value to any property in which they are installed.
The stainless steel sink is under-mounted to maintain the smooth lines for which GNL Contractors' granite countertops are so well known, creating a wonderful overall look and feel for any kitchen. The choice of four colors for the countertops means that the right color for any home can be selected, while the unique nature of the stone guarantees that every kitchen it is used in will have a unique finish.
With the economic recovery well underway in Mobile, GNL Contractors are looking forward to serving increasing numbers of customers in the area and contributing to the improvement of homes as families take positive action to improve their living conditions and homebuilders take advantage of the improving market to increase the quantity and quality of available housing stock. The company has pledged to keep the offer open until the end of 2013, providing its customers with sufficient time to plan and act upon their kitchen improvement ideas.
GNL Contractors' low rate of just $32 per square foot – which includes the granite itself as well as measurement, fabrication and installation – means that their granite countertops provide an excellent value opportunity for homeowners to invest in the improvement of their property. The timely offer is sure to contribute to the on-going economic recovery in Mobile, as property improvements lead to rising house prices and the picking up of the real estate market.
To find out more about GNL Contractors and this incredible offer, call (985) 288-5112, visit their showroom in Slidell, LA or check out http://www.gnlcontractors.com/.