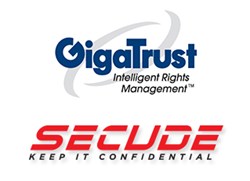 We are pleased to offer this phenomenal solution that integrates our companies' offerings in a most efficient and seamless way possible.
Alpharetta, GA (PRWEB) August 13, 2013
SECUDE, an innovative data security provider, today announced a new technology partnership with GigaTrust, the market leader in Enterprise Rights Management content protection software solutions that enhance and extend Microsoft's Rights Management Services (RMS). Under the terms of the agreement, GigaTrust becomes an authorized reseller of Halocore for SAP NetWeaver, SECUDE's innovative information protection technology for data leaving SAP. GigaTrust extends classification and protection capabilities of the Halocore platform by syndicating it with its own solutions, Desktop Client and Enterprise Plus administrative tools.
As the data security market moves toward more convergence between the network, cloud and application layers, both SECUDE and GigaTrust recognize the need to invest in next-generation solutions that will deliver security across all environments. SECUDE's Halocore platform allows SAP users to easily classify and protect sensitive data leaving SAP, such as financial or sales information by utilizing Microsoft's AD RMS, the industry leading content protection technology. Securing sensitive information as closely as possible to the moment of creation allows documents to remain protected no matter where they may travel inside or outside of the organization.
In the near term, GigaTrust will extend this partnership by tightly integrating their solutions with SECUDE's Halocore for SAP NetWeaver. GigaTrust's Desktop Client extends RMS support to a variety of file types and related native applications. GigaTrust's Enterprise Plus provides an easy-to-use administrative interface for RMS while its auditing features allow CISO's to immediately see the who, what, where, when and how the data is used throughout the organization and beyond.
With Microsoft's Office 365 (O365) and Azure Active Directory Rights Management (AADRM) cloud offerings, GigaTrust is adapting its Desktop, iOS and Android mobility solutions with Microsoft's newly released AD RMS SDKs and ActiveSync IRM support for protected emails, attachments, and documents. The GigaTrust Enterprise Plus product will also be made available as an Azure cloud service. This will facilitate on-line and off-line rendering, with administrative and auditing oversight, of Office, Microsoft's protected PDF and Adobe PDF documents delivered to and from the desktop and mobile devices. Newly adapted mobile solutions will also allow SECUDE's SAP protected content to be accessible anytime, anywhere and on any device.
"Our partnership with SECUDE represents a significant breakthrough by positioning cross-functional enterprise systems such as SAP with rights management," said Bob Bernardi, CEO of GigaTrust. "We are very pleased with this partnership because of the benefits provided to our current on-premise and soon to be in the cloud customers."
"We are excited to have GigaTrust as one of our key partners to expand our market reach, particularly since their core expertise in Microsoft's content protection technologies is extensive and synergistic with SECUDE," said Michael Kummer, President of SECUDE Americas. "We are pleased to offer this phenomenal solution that integrates our companies' offerings in a most efficient and seamless way possible. SAP users can now benefit from a compelling security solution based on the latest RMS technologies."
About SECUDE
SECUDE is an innovative global provider of IT data protection solutions. SECUDE helps customers protect sensitive data from loss or theft and to meet legal and industry requirements and guidelines. The company was founded in 1996 as a partnership between SAP AG and Europe's largest application-oriented research organization, Fraunhofer institute in Germany. SECUDE's focus currently extends to the field of application data security and Information Rights Management (IRM) and addresses the rapidly evolving business needs of mobile and cloud security and safe digital collaboration. Today, SECUDE is trusted by a large number of Fortune 500 companies, including many DAX companies. With offices in Europe, North America and Asia, SECUDE embraces global IT security. For more information, please visit http://www.secude.com.
About GigaTrust
GigaTrust is a leading provider of email security and content protection software products and services with customers in both the public and private sectors. GigaTrust is the only provider of the Intelligent Rights Management™ solution, which combines innovative next generation content security technologies built on the foundation of Microsoft® Rights Management Services. GigaTrust's family of products and services are easy to use and deploy. GigaTrust's products and services include security solutions for email/attachments and document protection, administrative oversight and compliance tools, network file shares, content repositories, discovery enablement, and mobile devices. For more information about GigaTrust, visit http://www.gigatrust.com.
Media Contacts
Marina Adams
Marketing Communications Manager
SECUDE
+1 (404) 862-0210
marina.adams(at)usa(dot)secude(dot)com
Harry Piccariello
Chief Marketing Officer
GigaTrust
+1 (703) 467-3753
Hpiccariello(at)gigatrust(dot)com