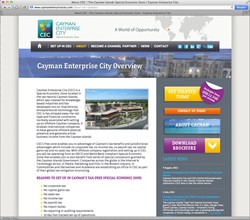 It's our way of answering as many questions as we can for future clients and letting them know everything they need to know to set up and grow their businesses.
Grand Cayman, Cayman Islands (PRWEB) August 14, 2013
Cayman Enterprise City (CEC), Cayman's knowledge-based special economic zone has unveiled a new Internet face with the redesign of its website at http://www.caymanenterprisecity.com. The new look is part of a re-branding campaign using the rich colors in the CEC logo, which features a star made up of 5 boxes representing the five business parks in the zone. The redesigned website is more user-friendly with improved navigation, and offers a refined message and detailed information on how to set up in the zone.
CEC's original website was launched when the zone opened its doors in February 2012, and it served its purpose, but after a year in business the CEC team has gleaned information from clients and professionals, such as attorneys and tax advisors, to refine the zone's unique selling points and clearly communicate them in today's competitive market.
"Many clients are establishing in the zone for tax mitigation in respect of their international sales, as part of their global structuring," said Hilary McKenzie-Cahill Vice President of Marketing. "Some want to house their IP in CEC and license it internationally, and others are looking for a tax-neutral jurisdiction in which to base their international headquarters. CEC and Cayman offer the, so we want to communicate some of these key points on our web site."
Cayman Enterprise City allows companies to set up a real physical presence with offices and staff and operate from Cayman, and because Cayman has zero taxation, business income generated here isn't taxed. The site provides information on the types of companies that qualify to establish in the zone and offers step-by-step directions on what they need to do to set up. Cayman Enterprise City is designed to attract companies from the internet and technology, media, commodities and derivatives and biotechnology sectors.
The home page on the site also addresses the problem that young international entrepreneurs have with obtaining H1-B Visas for the US and points out that CEC offers the perfect solution by getting them visas to work in Cayman's zone within 5 days. Another new feature is a section on the jurisdiction with links to informative government documents on the regulatory environment in Cayman.
"It's our way of answering as many questions as we can for future clients and letting them know everything they need to know to set up and grow their businesses," said McKenzie-Cahill.
CEC's new website includes pricing on the packages available in the zone - for example entrepreneurs launching a startup may want to purchase an entry level Flexi-Presence package for as low as US$12,950 per year. The site enables visitors to stay informed of the latest news about the zone and its clients. McKenzie-Cahill says they have added a section about lifestyle in the Cayman Islands, a sophisticated upscale group of islands with a world-class infrastructure, and visitors can click on links to schools, accommodations, restaurants, medical facilities, sporting and recreational activities.
"The Website is a critical component of our outreach to potential clients worldwide," said Ben Fisher Vice President of Business Development at CEC. "We want to convince forward-thinking companies that Cayman Enterprise City and the Cayman Islands is the place for them to be as they grow their business – it's not only the ideal business jurisdiction, but also from a lifestyle point of view as Cayman is a very cosmopolitan and desirable place to live".
McKenzie-Cahill says the CEC website will be adapted and updated frequently. Soon to be added is a section for existing channel partners and preferred service providers to showcase their offerings and services along with a client portal.
About Cayman Enterprise City
Cayman Enterprise City is the Cayman Islands' Special Economic Zone focused on knowledge-based industries, technology companies and specialized services businesses. With its own dedicated Government Authority and guaranteed fast-track processes, International companies can quickly and efficiently establish a genuine physical presence in Cayman and generate active business income here. Zone companies can take advantage of Cayman's jurisdictional benefits which include zero corporate tax, zero income tax and zero capital gains tax, along with a raft of special zone concessions and incentives granted by the Cayman Islands government. These concessions are designed to attract international companies from five specific high-tech sectors; internet and technology, media and new-media ventures, biotechnology, commodities and derivatives, and academia.
For more information
Telephone: +1-345-945-3722
E-mail: h.cahill@CaymanEnterpriseCity.com
Web: http://www.caymanenterprisecity.com
Facebook.com/CaymanEnterpriseCity
Twitter.com/CEC_Cayman
LinkedIn/Cayman Enterprise City