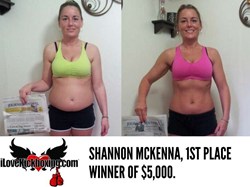 I can't even express how much iLoveKickboxing.com has changed my life
New York, NY (PRWEB) August 13, 2013
iLoveKickboxing.com, the fitness kickboxing franchise with over 300 locations throughout the world, held their first annual "45-Day Body Transformation Contest" this year. The contest began in May, and continued until July 3. On Friday, August 9, 2013, the 10 winners of the contest were announced.
In the announcement where the company named the winners, executive Ryan Healy stated, "As we said at the beginning of the contest, this wasn't just about visible results. In fact, the people who lost the most weight did NOT win this time around!"
Contestants submitted pictures, weigh-ins, and video / written stories about their transformations to qualify. Judges measured all aspects of the contest equally. In her final story discussing her experience of the contest, first place winner Shannon Mckenna wrote,
"I can't even express how much iLoveKickBoxing.com has changed my life in so many aspects. You go into it thinking you may lose a couple pounds, which will happen, but there is so much more on top of that, both mentally and physically, that apply in every direction of life you can think of!"
McKenna lost 21 pounds, toned muscle, and decreased her overall body fat percentage by 4%. Her 1st place prize is a check for $5,000. A total of $2,500 in prizes is awarded for contestants who ranked 2nd through 10th.
About: iLoveKickboxing.com is a fitness kickboxing franchise that takes the workouts of professional fighters, and makes them accessible for men and women looking to lose weight and tone muscle. Their program emphasizes the importance of community, fun and support for long-lasting results. Information on classes is available at http://ilovekickboxing.com. Information on the iLoveKickboxing.com franchise opportunity is available at http://myilovekickboxing.com.