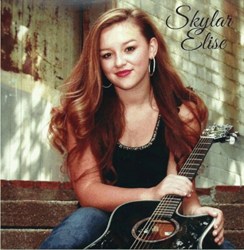 Dallas-Fort Worth, TX (PRWEB) August 14, 2013
"If this CD is a glimpse at the talent and passion Skylar Elise already possesses at such a young age, she could truly become one of the next hot acts on the country scene." – Music Morsels
August 8th, 2013 marks the debut CD release on Sugar Money Records by 15-year-old country songstress Skylar Elise. Her six-song set features new country music with a flair and a confident sense of the genre in its maturity, even at her young age.
Also on August 8th, the Four Day Weekend Comedy Theater at 312 Houston Street, in Fort Worth, Texas will host Skylar's CD release celebration with special guests Bo Bice of American Idol fame and songwriter/producer D. Scott Miller. Dallas news reporter Rebecca Aguilar will emcee. The event takes place from 7-9 PM and is a free event. http://www.fourdayweekend.com
Dallas-Fort Worth, Texas' Skylar Elise is an American country music singer, songwriter and multi-instrumentalist. She was only eighteen months old when she started singing her first song by Shania Twain. Her musical career began at the age of three when she was given her first piano and microphone. Skylar made her first appearance at a local sports event where she sang "God Bless America". Skylar has played piano since she was 5 years old and took guitar lessons for three years. Playing guitar came so naturally for her that she began to play by ear. She writes, sings and plays her own music.
Skylar's first public performance was at the age of six. She has been a member of God's Country Kids for eight years where she has performed at nursing homes, senior citizen living facilities, talent shows, sporting events, and cancer benefits. She sings solos at three different churches including Church On The Slab, a church for the homeless, and her own church Glenview Baptist. Skylar also has performed for numerous local outside festivals and at Johnnie High Country Music Revue, Grapevine Opry and Wylie Opry. Skylar has been a Nashville recording artist since the age of nine and has been in development for the last year with Nashville producer D. Scott Miller. Now Skylar's dream to become a worldwide entertainer is becoming a reality.
Skylar Elise CD Info
Title: Skylar Elise
Artist: Skylar Elise
Label: Sugar Money Records
First Single: Track #1 – Gypsy Soul
Track Listing
1. Gypsy Soul 3:30 Writers: Rachel Proctor, Kate Cappola, Danny Myrick
2. Get Together 2:54 Writer: Chet Powers
3. I've Got The Picture 3:08 Writers: D. Scott Miller, Ruby Amanfu
4. You'll Never Understand 3:29 Writers: D. Scott Miller, Amanda Williams
5. You Wish 3:55 Writer: Skylar Elise
6. I Know What You Did 3:20 Writers: D. Scott Miller, Noah Gordon
Produced by D. Scott Miller
Recorded Mixed, Mastered by Pat Murphy
Lead Vocals: Skylar Elise
Background Vocals: Christine Winslow, Kent Wells
Acoustic Guitars, Banjo: Kent Wells
Electric Guitars: Jerry McPherson, Kenny Vaughn
Steel Guitar: Steve Hinson
Bass: Mike Brignardello
Piano: Michael Whittaker
Drums: Nick Buda, Scott Williamson
Gypsy Soul video: https://www.youtube.com/watch?feature=player_embedded&v=Pvpx6QRujMI
Web site:
http://www.skylarelise.com
Facebook:
http://www.facebook.com/skylarelisemusic
iTunes:
https://itunes.apple.com/us/album/gypsy-soul-single/id646026956
"How do you keep your feet on the ground when you know you were born to fly?"
For interviews with Skylar, presskits, media downloads, photos, please contact:
Serge Media Group, 678-880-8207, sergeent(at)aol(dot)com