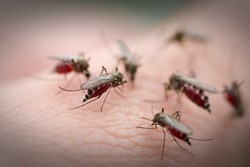 Scientists and health care providers have made significant gains in characterizing, treating and preventing malaria.
(PRWEB UK) 14 August 2013
With an increase in severe cases of malaria occurring among travellers returning from areas with a high risk for infection, such as Africa and South-East Asia, there are public health concerns in many developed countries where malaria is no longer endemic.
Although malaria is a preventable and treatable disease it can progress quickly to complications and death, infecting an estimated 219 million in 2010 alone with an estimated 660,000 deaths. The WHO estimates that 3.3 billion people, or half the planet's population, are currently at risk from malaria.1
The majority of deaths occur among African children. This increase raised concerns that appropriate awareness and safety measures are in place for those travelling abroad, even on short trips, and has challenged the medical field to find a vaccine that can be used to eliminate the threat of malaria all together.
Malaria is transmitted to humans by the bite of an infected mosquito. After the bite occurs, infectious malaria parasites in the immature, sporozoite stage of their life cycle first travel to the liver, where they multiply, and then spread through the bloodstream, at which time symptoms develop.
It has been known for several decades that exposure to mosquitoes treated with radiation can protect against malaria, however, studies have shown that it takes more than 1,000 bites from the insects over time to build up a high level of immunity, making it an impractical method of widespread protection.2
There are currently about 20 malaria vaccine candidates in clinical trials. The most advanced is called RTS,S/AS01, which has been developed by the pharmaceutical company GlaxoSmithKline, and is in a Phase-3 clinical trial involving 15,000 children in Africa.
Researchers led by Stephen L. Hoffman, M.D., of Sanaria Inc., in Rockville, Md., created a candidate malaria vaccine against Plasmodium falciparum, the most deadly of the malaria parasites, by purifying these sporozoites, taken from lab-grown mosquitoes, and then weakening them with radiation.
In a clinical trial involving 80 healthy adult volunteers, the vaccine, called PfSPZ, was found to be safe and to induce a small immune response when given either intradermally (into the skin) or subcutaneously (under the skin).3 "The global burden of malaria is extraordinary and unacceptable," said NIAID Director Anthony S. Fauci, M.D. "Scientists and health care providers have made significant gains in characterizing, treating and preventing malaria; however, a vaccine has remained an elusive goal. We are encouraged by this important step forward."
NIAID investigators then launched a human clinical trial with a group of 57 volunteers, none of whom had had malaria before. Of these, 40 received different doses of the vaccine, while 17 did not. They were then all exposed to the malaria-carrying mosquitoes.
The researchers found that for the participants not given any vaccine, and those given low doses, almost all became infected with malaria. However for the small group given the highest dosage, only three of the 15 patients became infected after exposure to malaria.4
Dr Robert Seder said: "Based on the history, we knew dose was important because you needed 1,000 mosquito bites to get protection - this validates that. It allows us in future studies to increase the dose and alter the schedule of the vaccine to further optimise it. The next critical questions will be whether the vaccine is durable over a long period of time and can the vaccine protect against other strains of malaria." He added that the fact that the vaccine had to be injected into the bloodstream rather than into or under the skin made delivery more difficult.
Commenting on the research, Dr Ashley Birkett, from the Path Malaria Vaccine Initiative, said: "They are clearly very early stage trials in small numbers of volunteers, but without question we are extremely encouraged by the results." He added that most current vaccine candidates targeted parts of the P. falciparum parasite rather than the whole organism. "This approach induces a broad response against a lot of different targets on the parasite," he said. 5
ChemistDirect Superintendent Pharmacist Omar El-Gohary advises: "Whilst the results of these trials look promising, a successful vaccine is still a few years away and other precautions are necessary. Anyone travelling abroad should check the NHS fit for travel website to determine if their destination is a risk area and if so which malaria prevention tablets they should take (6). Travellers at risk are also advised to try and prevent bites by using insect repellent, covering up arms and legs and using a mosquito net."
References
1) http://www.globalpost.com/dispatch/news/health/130808/new-malaria-vaccine-shows-promising-results
2) http://www.sciencedaily.com/releases/2011/09/110908145107.htm
3) http://www.sciencedaily.com/releases/2013/08/130808142144.htm
4) http://www.sciencemag.org/content/early/2013/08/07/science.1241800
5) http://www.bbc.co.uk/news/health-23607612
6) http://www.fitfortravel.nhs.uk/destinations.aspx