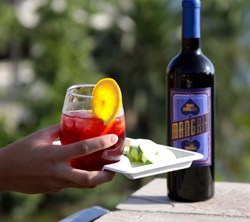 Laguna Niguel, Calif. (PRWEB) August 15, 2013
In celebration of their one year anniversary, Eco-Eats Partyware is proud to announce their sponsorship of Lamborghini Club America's Serata Italiana Lamborghini Gala benefiting Big Brothers Big Sisters Orange County, held on on Saturday, August 17, 2013 at Pasadera Country Club, Monterey.
In addition to Eco-Eats' anniversary celebration, Automobili Lamborghini celebrates its 50th anniversary and Lamborghini Club America celebrates its 38th anniversary. The elite Lamborghini Club America is the world's largest organization of Lamborghini owners and enthusiasts. This event will draw approximately 300 guests and is anticipated to be one of the premiere highlights during the Pebble Beach Concours d'Elegance and Monterey car weekend.
Since launching in August 2012, Plate-A-Cup by Eco-Eats Partyware has been used at various food festivals and fundraiser events. The Serata Italiana "Ignite Your Senses" Lamborghini gala will be the most high-profile and prestigious event the company would be involved in year to date. Co-sponsoring the event is T.V. personality and radio host Adam Carolla with his beverage product Mangria. The two brands have not only been on the market for almost the same amount of time, but are also a great marriage of two products, as they will be used in conjunction with each other during the cocktail reception.
Eco-Eats continues to target big events such as these, but plans to switch gears to turn their attention to other markets. When asked what else founder Nancy Kerr of Eco-Eats Partyware has planned for the next year, Kerr states, "Of course I would love to continue to participate in events such as this, especially if it benefits a meaningful cause, but another goal is getting into luxury sports suites where I feel there is a need for Plate-A-Cup, and also retail stores such as Whole Foods Market and BevMo." Kerr further explains, "I spent the first year getting Plate-A-Cup into as many hands as possible through food festivals and fundraising events to build product recognition and user experience. My hope is that when a consumer sees my product on a store shelf, they will remember the convenience it provided them and want that for their own parties."
About Eco-Eats Partyware
Eco-Eats Partyware is the producer of the eco-friendly and innovative Plate-A-Cup that solves that age-old problem of juggling a plate of food, a drink, and trying to eat at the same time. Plate-A-Cup allows a person to hold their drink and plate in one hand, while freeing the other hand to plate food, eat, shake hands or pocket a business card. What makes Plate-A-Cup unique to other products on the market is that it works with a can, cup, bottle, or short stemware; and is made of sugarcane -- making it tree-free, plastic-free, biodegradable, compostable and sustainable. Other unique features of Plate-A-Cup is that it can be branded or personalized with commercial labels or do-it-yourself 2.5" round Avery labels.
###