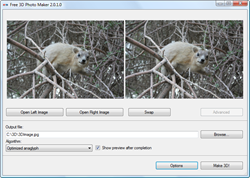 We chose our amazing Free 3D Photo Maker to begin with, it's more than obvious this software is a great choice...
New York, NY (PRWEB) August 21, 2013
DVDVideoSoft 3D Photo Maker has just been released as open-source, which means that the program is freely available now, the source code can be changed to make the program behave exactly as a user wants it.
Free 3D Photo Maker is a free tool capable of creating 3D photos by using one or two source images. To make a 3D photo out of two photos, it is necessary to have two shots of a still set object captured with a small horizontal shift (2-3 inches are enough to have the right scene). Both shots are inserted into the program and with one click a 3D image is created.
There are very few configurable options in the program, and that was done on the purpose to make the program comprehensive even for inexperienced users. Just one point worth mentioning is that in order to be able to watch the output 3D picture it is necessary to use stereo anaglyph glasses.
The program is fully compatible with Windows 8, 7, Vista, XP SP3 and is available for download in several languages.
"We've been receiving a number of requests to make our programs open source, since we are really committed to the creation of excellent software to satisfy all kinds of users, we decided to meet these requests," said Joyce Seal, the marketing director of DVDVideoSoft Ltd. "We chose our amazing 3D Photo Maker to begin with, it's more than obvious this software is a great choice; it is quite popular as it is one of the first programs of this kind: a simple user-friendly software which is able to perform quite a difficult task."
The open source code of the program is available on the following pages: http://sourceforge.net/p/free3dphotomake/wiki/Home/ and https://code.google.com/p/free-3d-photo-maker/.
About DVDVideoSoft:
DVDVideoSoft is an independent developer of multimedia software programs for video and audio processing. DVDVideoSoft offers 49 multifunctional easy-to-use applications with step-by-step instructions on how to solve different multimedia tasks with the help of its programs and, if necessary, provides free comprehensive support in English, German, French, Spanish, Italian, Russian, Japanese languages.