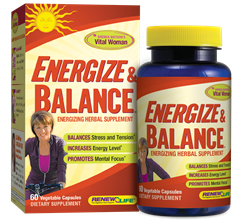 provides a comprehensive, natural approach to minimize stress and fatigue, while increasing energy and mental focus
Clearwater, FL (PRWEB) August 14, 2013
A Better Approach for Achieving Vibrant Energy
"These days, it's difficult to find a woman who isn't stressed and fatigued," says Brenda Watson, Public Television and national health educator, and President and Founder of ReNew Life. "The constant demands of an over-filled schedule, pressing deadlines or stressful encounters can leave us feeling tired and overwhelmed. New Energize & Balance, from my Brenda Watson's Vital Woman line, provides a comprehensive, natural approach to minimize stress and fatigue, while increasing energy and mental focus."
Watson went on to explain that Energize & Balance is a two-capsule-a-day herbal formula in vegetable capsules with no fillers or binders, and no added or artificial ingredients. It is designed to deliver natural, sustained energy with yerba mate and green tea, along with key stress and anxiety balancing herbs like rhodiola and ashwaganda. Korean ginseng, known for its benefits in people with mental fatigue, is included, as well as digestive enzymes to ease digestive upsets.
Energize & Balance is formulated for women who want to:

Supercharge their energy levels
Balance stress and tension
Promote mental focus
ReNew Life Formulas was founded in 1997 by Brenda and Stan Watson and offers a full spectrum of award-winning, digestive-care supplements and functional foods. Each ReNew Life product is made from only the finest raw ingredients. The company's analysis, educational materials, customer service and superior manufacturing practices all set the benchmark for others in the industry. Above all, ReNew Life is dedicated to helping their customers achieve and maintain optimal health, increase energy and enhance mental clarity.
For additional information on new Energize & Balance from ReNew Life's Brenda Watson Vital Woman brand, please contact bcooper(at)renewlife(dot)com.