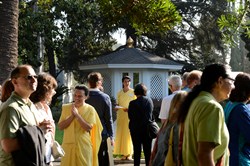 "You are pure perfect awareness."
Los Angeles, CA (PRWEB) August 14, 2013
At the center of what many spiritually minded are truly seeking is freedom––freedom from debilitating thoughts and aspects of this material life that prevent us from living in our natural state of joy and peace. It is this quest for achievable freedom that drew nearly 4,000 people last week to the annual Self-Realization Fellowship (SRF) World Convocation––held August 4-10 at the Westin Bonaventure Hotel in Los Angeles.
The event which focused on the yoga meditation teachings of Paramahansa Yogananda, SRF founder and author of the celebrated spiritual classic Autobiography of a Yogi, hosted attendees from 42 countries and all 50 states of the U.S.
During the week, SRF monks and nuns led satsangas (informal talks), group meditations, kirtans (devotional chanting), Kriya Yoga ceremonies, and classes on the meditation techniques of Paramahansa Yogananda and his "How-to-Live" teachings.
Brother Ishtananda, during a class entitled, "Meditation: The Soul-Satisfying Journey to Spiritual Freedom," spoke about bringing awareness of deep peace and happiness into daily life. "You are pure perfect awareness," he said to Monday evening's audience. He conveyed that, through troubles and challenges, it is wise to remember that though "the consciousness is aware of the circumstances, it is not the circumstances."
"Achieving Your Spiritual and Material Goals" was the focus of a class presented by Brother Chidananda. It emphasized the importance of structuring one's life in ways that meet one's needs and obligations, while preserving the inner freedom that is a natural expression of the soul. Maintaining a right attitude is paramount in this endeavor, as is the focus of our attention, according to Brother Chidananda, who said, "We become what we concentrate on. It's impossible to overestimate the importance of this in achieving one's goals."
On Friday evening, SRF President Sri Mrinalini Mata––one of Yogananda's foremost disciples and personally trained by him––urged Convocation participants to live in the reflection of the omnipresent Divine. In her inspiring and encouraging talk, she counseled Convocation participants that the only way one can get away from the dark manifestations of the world is to look beyond "these circumstances to the vibratory love of God."
A special screening of a new film about former SRF President Sri Daya Mata's first trip to India––just several years after assuming the SRF presidency in the mid-1950s (a position she held until her passing in 2010)––featured her year-long journey to sacred sites in Calcutta, Varanasi (Benares), Dakshineswar, Ranchi, and other places of significance during Paramahansa Yogananda's early years. During this trip, Sri Daya Mata became the first American to be permitted to enter one of India's holiest temples, Jagannath Temple in Puri. Also featured were scenes with revered Indian saint Ananda Moyi Ma, whom Sri Yogananda, in Autobiography of a Yogi, called "the Bengali Joy Permeated Mother."
During the week, SRF Convocation participants joined pilgrimages to spiritual sanctuaries established by Sri Yogananda in Southern California, including: the Lake Shrine in Pacific Palisades; the international headquarters of Self-Realization Fellowship on Mt. Washington near downtown Los Angeles; the SRF Hollywood Temple; Sri Yogananda's crypt at Forest Lawn in Glendale; and the SRF Retreat and Hermitage in Encinitas, where Sri Yogananda wrote most of his inspiring life story, Autobiography of a Yogi.
ABOUT SELF-REALIZATION FELLOWSHIP
In 1920, Paramahansa Yogananda founded Self-Realization Fellowship to disseminate his teachings. Headquartered in Los Angeles since 1925, SRF also publishes the complete works of Sri Yogananda and his monastic disciples. Today, SRF and its affiliate organization in India, Yogoda Satsanga Society of India, has more than 600 temples, retreats, and meditation centers in over 60 countries around the world.
Self-Realization Fellowship, 3880 San Rafael Avenue, Los Angeles, CA 90065,
tel. (323) 225-2471, http://www.yogananda-srf.org