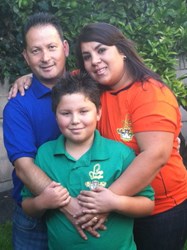 "We salute our entrepreneurs' success in launching and expanding their businesses. They are creating jobs, building assets, growing green microenterprises and promoting economic prosperity."
-Viola Gonzales, CEO, AnewAmerica
Oakland, CA (PRWEB) August 19, 2013
AnewAmerica Community Corporation will host its annual Microbusiness Expo and Celebration at the Kaiser Center Roof Garden on Thursday, August 29th from 6:00-9:00 p.m. The event will be a festive celebration of AnewAmerica, its new American micro-entrepreneurs and small businesses, loyal sponsors, and dedicated community members. The evening will feature more than 30 graduates of AnewAmerica's Business Incubator program, who will market their goods and services at the Microbusiness Expo.
California continues to lead the country in immigrant entrepreneurship. About one-third of California's small businesses are owned by immigrants. AnewAmerica provides training and technical assistance to targeted communities for economic and social empowerment through a focus on green entrepreneurship, asset building, social responsibility and civic engagement. AnewAmerica works with traditionally challenged communities, which include new Americans (new citizens, refugees and immigrants), women, minorities and low-to-moderate income households. As a result of their program, participants start businesses and create jobs, while contributing to the economic growth and social capital of their communities.
"We salute our entrepreneurs' success in launching and expanding their businesses. They are creating jobs, building assets, growing green microenterprises and promoting economic prosperity," states AnewAmerica CEO, Viola Gonzales.
Betty Bedregal, owner of Betty's Butterflies, an innovative daycare center, is being honored with AnewAmerica's "Emerging Entrepreneur of the Year Award". This annual award is given to an entrepreneur who has taken exemplary strides to launch and grow their business. Betty is committed to helping families in her community live happy and healthy lives. Through her business, she implements the AnewAmerica Healthy Roots Program, in which children learn the importance of organic edible gardening and balanced nutrition, as well as Michelle Obama's "Let's Move!" program. In October 2012, Betty was recognized as a Top 7 Business Model Finalist in the Santa Clara County StartUp Cup Business Model Competition. In May 2013, she received a public nomination and was invited to attend as an audience member for the Champions of Change Ceremony for Immigrant Entrepreneurs and Innovators at the White House.
Other entrepreneurs to receive awards at the event include:
Green Business of the Year Award: Irma Villa, Villa's Tailor Shop
Volunteer of the Year Award: Nga Do
Volunteer Group of the Year Award: San Jose State University Bridge2Success Internship Team
About AnewAmerica
AnewAmerica Community Corporation is a 501(c)(3) regional nonprofit organization, a designated Small Business Administration Women's Business Center, and a Community Development Entity (CDE). Their mission is to provide training and technical assistance to targeted communities for economic and social empowerment through a focus on entrepreneurship, asset building and social responsibility.
For 14 years, AnewAmerica has provided linguistically and culturally-effective microbusiness education and technical support to new American immigrants and refugees in the nine-county San Francisco Bay Region. Their unique three-year model successfully integrates business training, job creation, asset development, and community empowerment strategies for low-income new Americans.