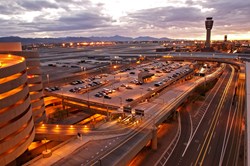 "We want to make sure that all our customers go home happy..."
Phoenix, AZ (PRWEB) August 20, 2013
Greenbee Parking, one of the fastest growing airport parking solutions company, has revealed a whole new set of discounted parking deals for travelers using the busy Phoenix (PHX) airport. Despite being a relative newcomer in the industry, the company has already made a name for itself for its innovative parking options and very affordable parking rates which are designed to benefit both long term and short term customers. Phoenix sees a fair share of air traffic and airport authorities till date, have been quite stumped with the ever-increasing gap between demand and supply of airport parking space. With the new set of discounted deals in place Greenbee customers can happily say goodbye to Sky Harbor Phoenix airport parking coupons. The coupons were till date, their only ways to get some relief from the steep airport parking rates. But the latest offers from Greenbee parking brings with them further relief and scope for up to 75% more savings on the parking costs than before. No need to hunt for coupons or wait for seasonal discounts to save anymore.
"We want to make sure that all our customers go home happy," said Christine Cooper – Marketing Coordinator, Greenbee Parking. "To guarantee this satisfaction we are constantly looking for new ways to serve our customers. New and innovative options to help them book a secure space and at lower rates than what most others in the industry will offer is our goal. For busy airports like Phoenix we want to offer comfortable service without the need for Sky Harbor Phoenix airport parking coupons to save on the expenses."
Phoenix Sky Harbor International Airport Parking Information
Phoenix Sky Harbor International Airport is the busiest and largest airport for the state of Arizona, one of the ten busiest in the country and one of the top 15 busiest airports in the world. It is the largest commercial airport for the south-western states and as a result sees a high volume of both business and leisure passenger footfalls round the year. It has over 1,200 scheduled departures and arrivals with more than 100,000 passenger footfalls every day. It connects with many domestic and international cities including popular getaways to Mexico and Hawaii. It is major hub for both US Airways and Southwest Airlines. It sees cargo handling of over 800 tons daily all of which combine to add to its $90 million daily economic impact. With such figures in play it is no wonder that ground traffic is always heavy and demand for airport parking space high. Scarcity of space has in turn led to skyrocketing rates which led travelers to constantly look for Sky Harbor Phoenix airport parking coupons to save on these rising costs. But with the advent of Greenbee parking there is no longer any need for coupons to save money because now one can easily avail a parking space and less than the usual rates without hunting for special deals or occasions.
The Greenbee Airport Parking Solution
Greenbee Parking has effectively bridged the gap between parking problems and solutions at both airports and major seaports. They have tied up with major hotels for available parking spaces at discounted rates which they offer their customers across the nation who can now save up to almost 75% of their parking costs.
All they need to do is visit Greenbee Parking, select their city or airport of choice, choose the parking spot and pay through a secured payment gateway. There is a comprehensive list of airports and parking spots to choose from. Greenbee's wide network makes it possible for every customer who logs in to find a solution.
About Greenbee Parking
Greenbee Parking is the nation's most innovative long term parking company, with a new way of making long term parking affordable. The company is rapidly adding new airports to its network. Check us out today to book your discounted spot.