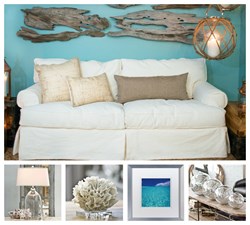 The Hamptons is the perfect area for our sea-inspired collection. Washable fabrics, durable tables that are made of reclaimed woods, and colorful accents that all come together for carefree living... sandy feet and bathing suits fit right in!
Vero Beach, FL (PRWEB) August 17, 2013
Our Boat House is proud to welcome the arrival of their Coastal Art Collection. This new product offering contains many beautiful and unique forms of art, including nautical themed triptychs, one of a kind pieces of driftwood, and many other vibrant coastal paintings. All of Our Boat House's coastal paintings are produced by a group of hand-selected artists that capture the feel of the sea in their own individual and unique way. The new triptychs are three-piece paintings that deliver a high impact while setting the tone for any waterfront getaway. The large dreamy waterfront triptychs are the perfect pieces for any coastal style home. The new driftwood pieces that Our Boat House is now offering are also a great addition to the decor of any coastal home. They are unique, naturally formed works of art that vary in size and shape, and were found deep in the nation's wetlands. Each piece has been molded by the waters in which they were found, and no two pieces are identical. They add texture, warmth, and interest to any room, while also creating a welcoming and coastal feel. Create a driftwood mosaic with several pieces, use an individual piece as a wall hanging, or hang as a natural room divider or screen to put the perfect finishing touch on any coastal themed room. The combination of these two nautical home accents bring the feel of the sea into your very home.
This new coastal art collection has been cherished and widely accepted by the residents of the area in which the company originated. These sea-inspired products have been perfect for the coastal design that is prevalent throughout the beachy homes existing existing throughout the hamptons.
What began as a treasure hunt for two sisters from the Hamptons grew into a thriving business called Our Boat House. They searched out all of their favorite coastal style furnishings and hard to find authentic nautical accents to create a collection that is both soothing and exciting. Everything from crisp white slipcovered furniture to sea glass floats and original brass dock lights can be found on their awe inspiring website. They ship all over the country and have numerous orders from clients throughout the Hamptons.
"The Hamptons is the perfect area for our sea-inspired collection. It is all about relaxed and easy living. Washable fabrics, durable tables that are made of reclaimed woods, and colorful accents that all come together for carefree living... sandy feet and bathing suits fit right in!" remarked GM and owner Karen Marcil.
"We are very selective in our products and each product must pass our test ....Do we love it? Would we have it in our own home? Is it unique?" Lori Smith, Design Specialist, stated.
"Our business has grown to accommodate the entire design of homes throughout the country. We enjoy each new project and believe the process of designing a home should be both rewarding and fun," said Karen.
The philosophy of Our Boat House is to combine true nautical elements and a mix of styles, finishes and textures that all work together to create a unique coastal style. By adding pops of sea glass green, watery blues and sandy neutrals, the relaxed feel of being by the water is created right at home. The current trend of washed reclaimed wood adds a casual beach side element that is best mixed with the classics of the rich woods, leathers and cottons. The mix of these elements creates a warm, welcoming and timeless home that is not trendy. Whatever the readers' personal taste - from contemporary to transitional - the content will help capture the drama and mood of the sea and create their own unique sea-inspired escape.
The following are just a few of Our Boat House's other coastal home furnishing selections:
Our Boat House specializes in coastal home furnishings with a classic view and offers two collections of Slipcovered Furniture - The Oceanside and The Harborside. The collections include classic slipcovered sofas, sleepers, sectionals, chaises, chairs and ottomans that are down-filled and designed for extreme comfort and affordability. Relax with the Casual Coastal style of easy-care washable slipcovers in crisp cottons, natural linens, denim, hemp fabrics and more that are replaceable and made in the U.S.A.
Our Boat House's Unique Coastal Style Lighting Collection from around the world is high quality and designed to complement any coastal style home and provide a historic beach home feel: iron and rope chandeliers, copper fox lights, rustic lanterns with a time worn patina, rustic candle pendants, handmade sea shell chandeliers, authentic brass passageway lights, driftwood lamps, coral shell lamps, authentic brass dock and piling lights, USCG lights, plus much more.
Our Boat House offers a collection of accent pieces, accessories, wall hangings, trunks and benches that will add interest, texture, rustic warmth and time-worn imperfection that will turn any space into the perfect coastal paradise: authentic nautical accessories and treasures from ships from around the world; hard to find genuine nautical, maritime decor, collectibles and furnishings-sea glass floats, ship's bells, portholes, diving helmets, bulkhead lights, brass binnacles, brass ship lights, passageway lights, fox lights; and so much more.
Make sure you follow us on Twitter.
Become a fan of Our Boat House on Facebook.