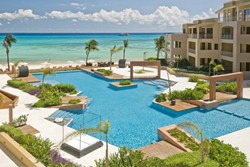 Playa del Carmen, Quintana Roo, Mexico (PRWEB) August 15, 2013
If you like the idea of owning a retirement home or a vacation condo in the Caribbean where there is never snow or cold, but have heard that as an American you cannot own property, then it's time to get down to the facts.
Real Estate in Playa del Carmen has been hot over the last decade. It has been the fastest growing city in Latin America over that period, and was the fastest growing city in the world in 2006. Much of that growth has been from Americans and Canadians companies investing in the area. So why the confusion on rights?
Could you always buy property in Mexico? Yes, but not always on the coastal regions. That changed around 40 years ago.
This Country's Constitution, written in 1917, included a provision for a Restricted Zone, an area in which only Mexican Nationals could own property. This worked well until the 1970's when the powers that be realized there was a lot more money outside of the country than in it, and restricting the flow in was bad. It was then that a bill was passed that allowed foreigners to control properties in the Restricted Zone through the use of a bank trust.
The Bill stated that this trust, known as a Fideicomiso in Spanish, could be set up with the foreigner as the only beneficiary. This satisfied all of the requirements for the Government. This is an irrevocable trust, which means this law can never be retroactively changed and any investment is 100% secure.
This is how nearly every multinational corporation from the US has invested in the country since 1970 and never had a legal problem. It was this single law that spurred the growth in many tourist spots including Cancun, Cozumel, Acapulco, Puerto Vallarta, Ixtapa, and Cabo-San Lucas as these areas exploded with foreign investment money.
Investment security increased for both Americans and Canadians even more in 1995 when the NAFTA treaty was signed. This agreement, which was ratified by all three countries which make up North America, allowed the same rights enjoyed by Mexican Nationals in the US and Canada to be applied to Canadians and Americans in Mexico. NAFTA has since created millions of jobs in Mexico, and the manufacturing sector is the backbone of the economy. This law will not be changed.
What all this means is individuals can now take advantage of the rights that companies have been taking advantage of for years. Vast fortunes have made in Real Estate in Playa del Carmen, and now you can get in on the ground floor!
Owning homes in Playa del Carmen and other Mexican regions is not only possible, it is relatively simple and with the ability of individuals to now take advantage of the laws that companies have been using for years, now you can get in on the ground floor! If you are interested in learning more about purchasing a home or condo in the Riviera Maya, contact American Realty (http://www.American-Development.com) today for information on how to get started.