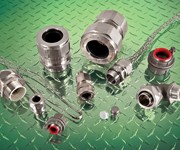 Wheeling, IL (PRWEB) August 15, 2013
Made in the USA with the widest range of connectors in stock in sizes up to 3 inches, the Expanded Family of Remke Corrosion Resistant Stainless Steel (CRSS) Connectors includes standard cord connectors, liquidtight conduit fittings, watertight conduit hubs, jacketed metal clad cable connectors and ventilation plugs. Custom stainless steel connectors in small or large quantities are also available.
Manufactured to perform in the toughest applications, Remke CRSS Connectors provide the greatest durability against corrosion, harsh climatic conditions, harmful environmental influences and high humidity. These connectors are also recommended for use in washdowns or high moisture environments.
Features of the expanded family of Remke Stainless Steel connectors includes:

More sizes in stock of standard Type 304 Stainless Steel Cord Connectors with Type 316 available upon request. These connectors are rated NEMA 4, 4X and 12.
7 conduit sizes in stock of Type 304 Stainless Steel Liquidtight Conduit Fittings that are rated IP 68 and NEMA 4X.
A complete offering of Custom Stainless Steel Connectors in small or large quantities that nobody else offers. Custom products, specials, adaptations & variations are available to all customers.
More sizes & styles in stock of Type 316 Stainless Steel Watertight Conduit Hubs that are rated NEMA 4, 4X and 12.
More type 304 Stainless Steel Jacketed Metal Clad Cable Connectors in stock with Type 316 available upon request.
Stainless Steel Ventilation Plugs with 3 thread sizes in stock that are rated IP 69K. Additional thread sizes & permeability levels are available upon request.
For 50 years, Remke has been manufacturing a wide range of American-made electrical connectors. For more information about the family of Corrosion Resistant Stainless Steel Connectors please contact Remke Industries, 310 Chaddick Drive, Wheeling IL 60090 – or call toll free at 800-383-1524 – or visit us online at http://www.Remke.com.