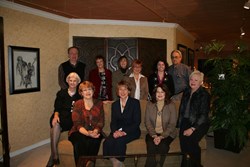 Truly Elegant, Truly Affordable
Munster, IN (PRWEB) August 22, 2013
Tilles Interiors has been owned and operated by the Peddycord & Jost family for almost 40 years. Sam and Belle Tilles originally founded the business in 1940 in downtown Hammond. Sam and Belle retired in 1972 when Don and Dorothy Peddycord bought the business. They previously owned a furniture store in Chicago's Beverly area for over 15 years.
The business moved from Hammond to Munster a few years later, and then expanded to almost 25,000 square feet of state of the art display. In the late 1990's, Don and Dorothy retired and their daughter and son-in-law Andy and Robin Jost took over the reins completely. They have continued in the Peddycord tradition - providing the highest level of service, offering customers the best quality merchandise, and making all merchandise available at the lowest prices in the area. With this approach, Tilles Interiors used the slogan "Truly Elegant, Truly Affordable" and the business continued to grow.
From their over an acre modern showroom, Tilles Interiors has provided its customers with uncompromising customer service, complimentary professional design services, and valued products from the finest quality brand names suppliers such as Henredon, Hickory White, Maitland Smith, Paul Roberts, Hooker, Hancock and Moore, Lexington, Bernhardt, Thomasville and many others. However the Josts' have decided to pursue other business opportunities.
Robin Jost was quoted saying: "Our decision to close the store was a very difficult one. Tilles Interiors has been part of the south Chicago, northwest Indiana marketplace for over 70 years and we've made many friends over that time. Andy and I want to express our sincere appreciation to all our clients for their continuing support. As a special gift to all our valued clients, we will reduce every item in our multi-million dollar inventory up to 75% off for immediate liquidation. This includes living rooms, bedrooms, dining rooms, hand-made oriental rugs and accessories. These reductions are being offered without respect to manufacturer's minimum pricing policies. Our customers will find savings and values never seen again. Everything must be liquidated, to the bare walls. This never-to-be-repeated offer is our way of saying 'Thank you for 73 delightful years.'"
The Sale is being conducted with the assistance of Deere Park Association (http://www.dpa-inc.com), the nation's leading home furnishings consulting firm. To insure every Tilles Interiors customer receives the same personalized attention that has been the Tilles tradition, Deere Park will provide extra staff and resources to assist the Tilles Interiors employees. Advertising and marketing for the event will be directed by Focus Media Company, (http://www.focusmediacompany.com) using direct mail, newspaper and TV ads.
About Deere Park Association:
Deere Park Association (http://www.dpa-inc.com) is recognized by independent research as one of the largest and most experienced consultants working exclusively in the home furnishing industry. It is a privately owned company with a history of operations in the furniture business dating back to 1900. No project is considered too large or too small for Deere Park.
Services focused exclusively in the furniture industry include:

Specialty Planned Events
Inventory Liquidation
Store Closings
Going Out of Business
Cash Raising
Moving or Retirement Sales
Business Restructuring
Home Furnishings dealers have confirmed that Deere Park Association is a company that has "a proven record of successful projects."
For additional information contact Jim Bullock of Focus Media Company at 847-714-1212.
Or... Andy Jost at Tilles Interiors 219-836-1530.