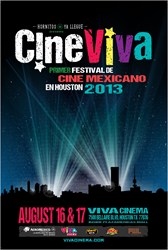 Houston, Texas (PRWEB) August 14, 2013
Hornitos Tequila and Viva Cinema, along with El Norte 107.9FM, La Raza 98.5FM and AeroMexico, are proud to announce Houston's First Mexican Film Festival. On August 16 and 17, 2013, Viva Cinema, Houston's newest movie theatre, will be featuring award-winning, box office hits directly from Mexico. The mission of the Mexican Film Festival is to showcase the top acting and directing talent from Mexico and celebrate the best films from the country.
The feature film, "Aqui Entre Nos" will open the festival on Friday, August 16 at 7:30 p.m. The red carpet event, which is open to the public, starts at 5:30 p.m. with Carmen Beato, the leading actress from "Aqui Entre Nos". Houston's very own Grupo Ligado will also be at the red carpet event as a special guest.
The sponsors of the film festival are also excited to announce that "Nosotros Los Nobles" (We Are the Nobles) will be the closing film for the festival. The film was breaking records in its first three weeks of showings in the theaters and as of August is the #1 film in Mexico. On Saturday, August 17, 2013 at Viva Cinema, "Nosotros Los Nobles" will be the first screening of the film in the United States in advance of its general release later this year. "Nosotros Los Nobles" will be a free screening open to the public and seating is first-come, first-serve.
The other festival films will be "Colosio, El Asesinato" and "El Fantastico Mundo De Juan Orol." For a complete list of all films in the Mexican Film Festival, please visit VivaCinema.com.
Tickets for each of the films can be purchased online at VivaCinema.com for $7 each or in-person at Viva Cinema's box office. An advance package deal to see three movies is available for just $15 at Viva Cinema's box office any time before August 15, 2013. Viva Cinema is conveniently located at 7500 Bellaire Boulevard inside PlazAmericas Mall.
ABOUT VIVA CINEMA
Viva Cinema is a newly-remodeled movie theater in PlazAmericas Mall located at 7500 Bellaire Boulevard. The multi-screened theater with state-of-the-art digital projection showcases a mix of first-run movies in English with Spanish subtitles as well as films from Mexico, Spain, Brazil, Argentina and more in Spanish with English subtitles. Viva Cinema is a family-friendly theater with wallet-friendly prices of only $7 per show. People can arrive early to the movie to enjoy Viva Cantina, which provides a great menu of different food and drinks. Food from the Cantina can also be conveniently taken into Viva Cinema on specially-designed trays to fit with the theater seats. Viva also has a special event area that is perfect for children's birthday parties and celebrations.