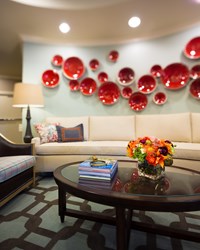 Compassion drives everything we do, and Creekside Healthy Living Community is our latest crowning achievement. - Ron Jennette, MRC President
(PRWEB) August 14, 2013
Methodist Retirement Communities will unveil its newest concept in senior living this Thursday, August 15, at a grand opening event. The public is invited to attend opening ceremonies at Creekside Health Living Community beginning with an appreciation ceremony at 2:00 p.m. Tours of the community will be available following the ceremony until 4:30 p.m. and again from 6:30 p.m. until 8:30 p.m. Creekside is located at 1433 Veterans Memorial Parkway.
"The healthy living concept represents a new and forward-thinking approach to the lifestyle we provide for older adults," said Ron Jennette, MRC president. "It combines whole person wellness with our tradition for quality care, as well as the very latest in what seniors tell us they want from a community."
Creekside replaces the Ella Smither Center at TownCreek and combines the same trusted Ella Smither reputation for care with additional new services and residential options, which include catered independent living, assisted living, the area's first and only certified memory support, skilled nursing, rehab, and home health. By expanding, Creekside can serve more Huntsville seniors and provide even more services and amenities.
Notably, Creekside is the only nonprofit, faith-based senior living community in the Huntsville area.
The new community includes 36 apartment homes, of which nine are available as Catered Independent Living that allows residents to enjoy all of the community's amenities and hospitality services, plus three meals per day. Creekside also provides 18 certified memory support apartments and 66 skilled nursing suites, each with a private shower and flat-screen TV with cable included. Spacious common areas feature exquisite interior décor by the Dallas-based Faulkner Design Group.
"Our system of communities started more than 50 years ago through compassion for the senior population at a time when few care alternatives were available, and our mission of serving seniors continues to grow," said Jennette. "Compassion drives everything we do, and Creekside Healthy Living Community is our latest crowning achievement."
About Methodist Retirement Communities (MRC): MRC is a leading non-profit, faith-based system of 10 "healthy living" communities spanning across six Texas locations. With a Christian heritage of serving seniors dating back to 1962, MRC has over 50 years of residential senior living and health care experience. Services include independent living, assisted living, certified memory support, skilled nursing, rehab and home health. MRC is listed among LeadingAge/Ziegler top 100 systems in the country. For more information, visit http://www.mrcaff.org .