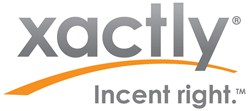 BOSTON (PRWEB) August 13, 2013
Xactly® founder, president and CEO Christopher W. Cabrera will share strategies for leveraging big data and the cloud to drive business results at the Oppenheimer 16th Annual Technology, Internet & Communications Conference. Cabrera's panel, "Leveraging Big Data and the Cloud to Drive Business Results," will take place on Wednesday, August 14, 2013 at 1:05 p.m. ET at the Four Seasons Hotel, Boston and via live webcast.
What: Leveraging Big Data and the Cloud to Drive Business Results
When: Wednesday, August 14, 2013, 1:05 p.m. ET
Where: Four Seasons Hotel, Boston and via streaming webcast: http://ow.ly/nTZy4
The technology industry remains the most dynamic sector of the world economy and a core focus for Oppenheimer & Co. The conference will offer institutional investors broad insight from management teams from over 130 public and private companies that span the entire supply chain from communication services; wireless hardware; data and storage infrastructure, social media; Internet; cloud computing and services; semiconductors, and software.
Tweet this: Xactly CEO @Incentivizer discussing #BigData and #Cloud at #opco. Watch here: http://ow.ly/nTZy4
About Xactly Corporation
With Xactly, companies of all sizes and industries can unleash the motivational power of their incentive compensation programs to inspire better employee performance and business results. Xactly's secure, cloud-based incentive compensation and performance management solutions enable emerging businesses to Fortune 500s to easily design, manage and optimize incentive programs that save time, cut costs, reduce risk and align employee behaviors with corporate goals.
As evidence of Xactly's continuous innovation and exceptional customer-centric culture, the Wall Street Journal twice named Xactly to its "Next Big Thing" list; Great Place to Work featured Xactly as one of the top 25 small workplaces in the nation in FORTUNE Magazine; and Salesforce.com customers voted Xactly the best sales compensation management solution in the Salesforce AppExchange Customer Choice Awards. To learn how you can incent right and achieve more with Xactly, visit http://www.xactlycorp.com or call 1-866-GO-XACTLY (469-2285).
# # #
© 2005-2013
Xactly Corporation. All rights reserved. Xactly, Xactly Incent, Xactly Incent Pro, Xactly Objectives, Xactly Insights, Xactly Express and "Incent right." are trademarks or registered trademarks of Xactly Corporation.