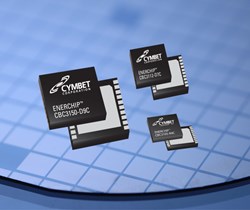 Logix Sales is an ideal partner for Cymbet as they have deep and long term relationships with electronics companies in their region
Minneapolis, MN (PRWEB) August 15, 2013
Cymbet Corporation announced today that they are teaming with Logix Sales to represent Cymbet's entire family of EnerChip™ Smart Solid State Batteries and power management solutions in Texas, Louisiana, Oklahoma, Arkansas and Mexico. Cymbet EnerChip batteries are created using semiconductor processes and are sold in both standard plastic IC packages and as bare die batteries. EnerChips enable new innovative product capabilities that previously could not be realized with legacy energy storage devices.
"Logix Sales is an ideal partner for Cymbet as they have deep and long term relationships with electronics companies in their region," said Blair Wilson Cymbet VP of Sales. "Logix Sales' customers will appreciate the synergies between Cymbet EnerChips and the other products on the Logix line card."
EnerChips Go Where Coin Cell Batteries and Super Caps Can Not
The EnerChip rechargeable solid state batteries have a footprint as small as the CBC005 bare die that is 1.37mm x 0.85mm x 175 microns thick. Packaged EnerChip batteries with integrated power management range from 4 x 5 x 0.9mm to 9 x 9 x 0.9mm depending on battery capacity size.
"We are extraordinarily pleased to now represent Cymbet in our Region," said Jeff May of Logix Sales. "Our customers will be able to accelerate their new product innovation by using Cymbet rechargeable solid state batteries and ultra low power management solutions."
Experiment with EnerChips using Evaluation Kits
Logix Sales can now provide their customers with EnerChip Evaluation Kits to experiment with for many different applications:

CBC-EVAL-05B EnerChip CC Evaluation Kit contains everything needed to test EnerChip, 5uAh, 12uAh and 50uAh thin film batteries with Integrated Battery Management for power backup.
CBC-EVAL-06 Real-Time-Clock Power Backup Evaluation Kit: includes a Microcrystal NV2123 Real-Time Clock device and a CBC3112 EnerChip CC for battery backup. This kit also includes a Windows based Graphical User Interface to set the clock & test RTC operation in backup and count-down modes.
CBC-EVAL-09 Universal Energy Harvesting Kit provides a platform to try any type of EnerChip Harvesting transducer with the Cymbet Energy Processor and EnerChip batteries.
CBC-EVAL-10 Solar Energy Harvesting Kit provides a cost effective solar EH solution with the PV cell tied directly to the EnerChip internal power management IC. Supports wireless endpoints.
CBC-EVAL-11 RF Induction Charging Kit provides a method of wirelessly charging an EnerChip CBC3150. Supports wireless sensor nodes.
Included with all Cymbet evaluation kits are full datasheets and application notes that include reference designs and schematics. All the information designers need for easy EnerChip integration into their new products is on http://www.cymbet.com. Contact information for Logix Sales is under the Cymbet.com Buy tab.