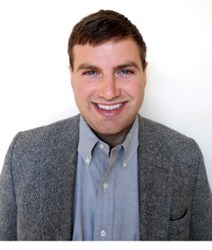 "We will show businesses how to improve their online profiles and get in front of new potential clients." - SEO expert Paul Shannon
Santa Maria, CA (PRWEB) August 14, 2013
Central Coast SEO expert Paul Shannon is giving a free presentation on local search optimization this month in Santa Maria. It's called "The Five Keys to Local Online Marketing Success."
Business owners, managers, and marketing staff are invited to come learn more about how to rank better on Google, Yahoo, Bing and Yelp. The training will teach business owners and managers how to improve their online presence with local search engine optimization techniques.
"Customers are using their smart phones and computers to find local businesses," says Shannon, an Internet Marketing specialist with Access Publishing. "We will show businesses how to improve their online profiles and get in front of new potential clients."
A recent report says four out of 10 consumers are using online local search every single day. Fifty-seven percent of buyers are using Internet searches as their primary way to find local goods and services, according a recent survey of 3,000 U.S. households by ComScore.
Upcoming presentations
Aug. 17, 2013–Noon¬–The Radisson Hotel, 3455 Airpark Dr., Santa Maria, CA
Oct. 18, 2013–Noon¬–Best Western Colony, 3600 El Camino Real, Atascadero, CA
Nov. 15, 2013–Noon¬–Board of Realtors, 1101 A Riverside Ave., Paso Robles, CA
Dec. 13, 2013–Noon¬–Rooster Creek Tavern, 200 E Branch St, Arroyo Grande, CA
Reserve your seat today.
To attend a presentation, call Access Publishing at (805) 226-9890 or click here to register for the online for the presentation.
About speaker Paul Shannon
Paul Shannon is an expert in search engine optimization for Central Coast, CA. He leads the Local Search Engine Optimization team at Access Publishing. He has a Bachelors of Science in Entrepreneurship from San Diego State University.
About Access Publishing
Access is a full-service marketing and advertising company. The Paso Robles SEO firm provides web design and online marketing services to over 100 businesses on the Central Coast all across San Luis Obispo and Monterey counties.
Access Publishing, 806 9th Street, Paso Robles, CA 93446 (805) 226-9890