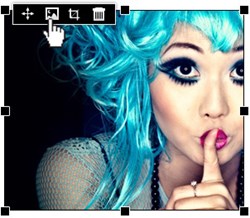 "Webydo is putting designers in the driver's seat." - Shmulik Grizim
New Jersey (PRWEB) August 22, 2013
Thirty-eight million graphic designers currently working to create multiple websites for their clients are enslaved to an old process that depends on developers to manually convert graphic design into handwritten code. This process, which hasn't changed much since the '90s, is slow, expensive and marginalizing designers' roles. According to Webydo's research, 70% of the budget of professional website design creation is currently spent on the development of handwritten code. On the other hand, the DIY code-free platforms (such as Weebly, Wix or Squarespace) offer only pre-formatted templates that are not suitable for professional website creation, and less than 3% of websites are created using these tools.
With Webydo, designers can not only create a website using a professional cloud-based software made specifically for designers, but now have the ability to bill their client directly, brand the system as their own, share website designs with their clients, and use an advanced CMS where their client can change, delete or update any element on the websites independently.
"This is a true revolution in professional website creation", says Webydo's CEO & Co-Founder, Shmulik Grizim. "For the first time, designers have complete control over the entire website design process and they can build their own independent web design business without hiring developers or manually writing code, focusing on the creative side only. Following our designers requests, we're now adding a highly secure and efficient automatic payment system to the Webydo Dashboard. Webydo now takes care of all the technical and financial sides of running a successful web design business, enabling designers to create websites that can cost their clients up to $10,000 in a process that is ten times faster and cheaper."
Webydo's sophisticated online software lets designers create multiple websites with custom tailored designs from scratch, without writing one line of code. Webydo includes all the familiar tools that graphic designers use in softwares such as Adobe's Photoshop or Indesign. However with Webydo, designers can edit in browser, see their interactive design in action immediately and create a professional website with built in CMS.
Webydo is now releasing the business solution for designers, helping them build a powerful web design business.
Webydo's new "Bill Your Client" system allows designers to bill their client for each project or service directly from the Webydo Dashboard. Webydo's new "Build Your Brand" feature, allows designers to rebrand the whole Webydo system putting designers brand identity front and center. Webydo's new "Share Your Site Design" CMS feature allows designers to easily present their website design with their client, enabling clients to change, delete or update the content of their websites. Designers can even lock parts of their design, preventing unwanted changes and preserving full artistic control.
About Webydo
Webydo is servicing a community of 13,000 designers, enables them to create and manage cross-platform business websites, without writing code. With a click of a button, designers can publish an advanced HTML website, including a friendly built-in CMS for the website owner. Founded by designers and creative professionals, Webydo is empowering designers around the world, eliminating all technical barriers and helping designers focus on the creative side of web creation.
To learn more visit http://www.webydo.com
Webydo can be found on Behance, Twitter @Webydo and on Facebook.