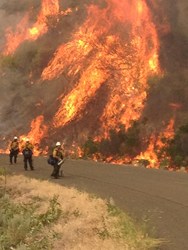 "We are just another tool in the agency toolbox available to assist when needed." Debbie Miley, Executive Director
Lyons, OR (PRWEB) August 15, 2013
"Wildfires can destroy everything in their path. With a mere change of the wind, it can become a monster endangering those who don't understand its nature. So federal, state, private and cooperative agencies skills are honed by arduous and constant training required to battle these fires," said Deborah Miley, National Wildfire Suppression Association Executive Director.
Braving the smoke, heat, and danger of wildfires or the aftermath of disaster are federal, state and local responders. When the magnitude of the event exceeds the current agency resources, they can call in "army" of professional private wildland fire contractors who bear all the costs of training, equipment, travel and other costs.
Currently, over 40% of the firefighters on the ground across the West are from the Professional Private Fire Industry. That includes fires in Utah, Oregon, Washington, Idaho and California.
The role of the private sector firefighting community is to be another tool in the agencies toolbox to pull out when they need assistance. We have shared the feeling of accomplishment in successfully suppressing fires, and also the feeling of sacrifice when we lose a brother or a sister on the line.
There are private firefighters on almost every large fire in the United State right now including Idaho, Oregon, Washington, CA and Utah.