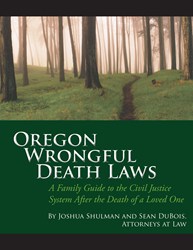 This is a great site for those who want to know more about pedestrian safety – specifically parents, teachers, and local transit agencies.
Portland, Oregon (PRWEB) August 15, 2013
The Portland wrongful death attorneys at Shulman DuBois have experience with fatal traffic accidents, and applaud the great efforts of the NHTSA to help prevent these deaths by providing educational forums like the new website, "Everyone is a Pedestrian."
"Everyone is a Pedestrian" offers statistics, resources, and programs for individuals, schools, and even local government officials. "This is a great site for those who want to know more about pedestrian safety – specifically parents, teachers, and local transit agencies," said Portland injury attorney Sean DuBois.
Some harrowing pedestrian fatality statistics:

There were 4,432 pedestrian fatalities in 2011.
The percent of pedestrian deaths has risen from 11% to 14% of all traffic fatalities in 4 years (from 2007 to 2011).
73% of pedestrian fatal crashes occur in urban environments.
In 2011, 70% of pedestrian deaths occurred at nighttime.
Only about 19% of deaths occurred in intersections, in 2011.
The group most at risk for fatal pedestrian accidents is children ages 10-15, who make up 21% of the total killed in traffic crashes (and 8% of those injured).
Alcohol was a factor in 48% of fatal pedestrian crashes, either for the pedestrian or the driver.
In Oregon, there were 311 traffic fatalities in 2011, 46 of which were pedestrian deaths.
Unfortunately, as you can see from the statistics above, fatal pedestrian crashes are not uncommon. There are, however, steps people can take to help prevent them:
1. Do not wear dark clothes when walking at night.
2. Always walk on the sidewalk. If that's not possible, walk facing traffic as far from traffic as possible.
3. Don't be a distracted pedestrian – use of phones, headphones, etc., have been shown to be dangerous.
4. Always use a crosswalk, or at least cross at an intersection, where drivers expect pedestrians.
5. Stay away from dark streets with no street lights, as well as pedestrian-restricted areas like freeways, highways, etc.
"It's scary how common these pedestrian crashes are," said DuBois. "because when a car hits a pedestrian, there's no contest – the person on foot is going to be seriously injured or even killed." With pedestrian crashes, the odds of serious injury and death are high. If you are injured, you can receive compensation through the auto insurance company with a personal injury claim.
If you lose a loved one to a pedestrian accident, compensation is much more complicated, but families can still bring a wrongful death claim. Wrongful death claims for fatal pedestrian accidents have strict time limits (called statutes of limitations) and often require detailed investigation.
For more information about Oregon wrongful death claims, Shulman DuBois LLC offers a free book called Oregon Wrongful Death Laws: A Family Guide to the Civil Justice System After the Death of a Loved One that can be ordered at http://portlandwrongfuldeath.com/. "Hopefully, the NHTSA's new site will help everyone avoid these types of accidents. But for those that still lose a loved one, this free information will be helpful," DuBois said.
The wrongful death law firm of Shulman DuBois LLC is based in SE Portland, OR. Partners Joshua Shulman and Sean DuBois have experience helping people who have been injured or killed in car, truck, bicycling, pedestrian, and motorcycle accidents. Their areas of expertise include wrongful death claims, brain injuries, child injuries, and victims of drunk driving. For a free consultation, call 503-222-4411 or contact us at http://www.portlandpersonalinjuryaccidentlawyer.com.