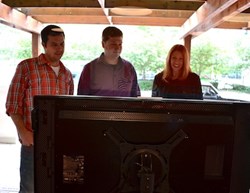 Ballston BID is excited about the prospect of mentoring and working with Transit Screen. They have a product that promotes community and use of public transportation, which we as a BID fully support. - Tina Leone, Director, Ballston BID
Washington, DC (PRWEB) August 29, 2013
TransitScreen was recently selected as a Semi-Finalist in the Ballston LaunchPad Challenge, an initiative offering visionaries the chance to develop their discoveries. Along with 14 other Washington DC businesses, startups and entrepreneurs, TransitScreen was selected from a field of more than 200 contestants to participate.
The Ballston LaunchPad Challenge is an initiative of the Ballston Business Improvement District (BID). The goal is to provide tools, learning experiences and exercises that increase each venture's chance of success. Through education programs, mentorships and courses, these 15 participants will receive an opportunity to learn and grow their ventures. At the end of the program, each will receive a chance to pitch to Ted Leonsis, Founder, Chairman, Majority Owner and CEO of Monumental Sports & Entertainment.
"Ballston BID is excited about the prospect of mentoring and working with TransitScreen. They have a product that promotes community and use of public transportation, which we as a Business Improvement District fully support. They already have a solid business plan, and we hope to provide them with all the necessary tools to be as successful as we foresee. We also enjoyed the opportunity to place a TransitScreen display in the Ballston BID street-side window during multiple recent events, which enabled us to promote all of the convenient transportation options to prospective customers, businesses and residents in the Ballston business district," stated Tina Leone, Director of Ballston BID.
TransitScreen displays are real-time, multimodal transportation information displays that can be installed at any location with a single, information-rich display. TransitScreen currently serves the Greater Washington DC area and the San Francisco Bay Area, with plans to cover multiple other major North American cities in 2013.
"We are honored to be selected as a semi-finalist for the Ballston LaunchPad Challenge. We have already benefitted greatly from our strategic partnership with Ballston BID, especially in regard to their mentorship and workshop programs. We look forward to a long relationship as TransitScreen continues to expand," stated Matt Caywood, President of TransitScreen.
TransitScreen displays instantly demonstrate all transportation options at a glance. In the Greater Washington, DC area, TransitScreen displays include all major transit agencies including Metro, Metrobus, Capital Bikeshare, Circulator, ART, and PG The Bus.
About TransitScreen
TransitScreen is a privately held transportation software and digital signage company and a pioneer in providing real-time transit information displays. The TransitScreen service is a live, real-time display of all transportation options at a specific location (including subway, bus, train, bike share, and car share). Founded in 2012, TransitScreen makes transit information more accessible, viewable and engaging so that commuters, visitors, residents and employees can make informed transit decisions. TransitScreen is a Transportation Demand Management (TDM) solution to create sustainable, walkable, bike-able cities of the future and inform citizens, promote behavior change, and reduce parking and traffic on city streets. Today, thousands of people live and work in institutions, organizations, companies and shops displaying our multimodal transit information. Visit http://www.transitscreen.com, or follow TransitScreen on Twitter (@transitscreen) and facebook.com/transitscreen.
About the Ballston Business Improvement District (BID)
The Ballston Business Improvement District (BID) will preserve and enhance Ballston as a vibrant, innovative, and attractive urban place to ensure the competitive success of its existing and future commercial partners. The Ballston Business Improvement District (BID) is a 25-block neighborhood of commercial and residential properties. With over 8.3 million square feet of office space, 1 million square feet of retail space and 8,000 residential units, Ballston offers a range of market-rate options. As a newly formed BID in Arlington it is their goal to make Ballston a foremost business, cultural and entertainment destination. It is a blend of urban sophistication and neighborhood charm that is unique to this region, boasting top universities, Fortune 500 companies, the Washington Capitals office and practice facility, and many research organizations nestled by upscale hotels, retail, green space and restaurants, all easily accessible by metro and major thoroughfares. http://www.ballstonbid.com/.