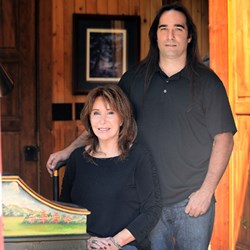 This is a great product, I've been using it for a couple of months and my skin feels tighter and looks younger and brighter.
(PRWEB) August 16, 2013
Susan Nickell's latest creation — the Sevique line of natural skincare products — has solved the problems she had finding the right facial treatments following radiation and chemotherapy for two different cancers.
She had always taken good care of her skin by staying out of the sun and having laser treatments, but the cancer treatments dulled the look of her skin noticeably. She tried a number of different products to restore it, but her skin's sensitivity had increased dramatically. After a $130 cream ended up burning her face, she spoke with a naturopath who told her that she couldn't use chemically based products any more.
Nickell spared no efforts in developing the skin-care line, utilizing the expertise of top scientists in laboratories behind a few of the best-known lines of luxury skin creams.
"I felt like you had to be a scientist to understand skin care," she said. "I wanted a line that was easy to use, so that anyone could use it."
The Sevique brand separates itself from the crowded market, Nickell said, because the ingredients are derived botanically and there are no harsh chemicals used for the base, yet it still contains the additives that skin loses in the aging process.
Nickell previously had run a successful business with her son, Shea Ciaramitaro, with whom she was hoping to work again. She also wanted to provide jobs and keep busy. Creating her own skin-care line seemed to be the logical way to meet those goals and solve a personal problem.
Sevique, a revolutionary new skincare line is blending the best natural ingredients with the most advanced skincare science to specialize in highly concentrated formulations that provide real transformation and maximum results with no harsh additives.
This elegant skincare collection is rich in anti-oxidants, anti-inflammatories and has an innovative delivery system which penetrates the deepest layers of skin, allowing products to work naturally from the inside out to hydrate, restore and revitalize the natural balance of almost any skin type.
Portions of this release have been excerpted from an article featured in the Daily Inter Lake by Heidi Gaiser with a photo of Susan Nickell and her son Shea Ciaramitaro by Brenda Ahearn. To view the full article visit us on facebook at https://www.facebook.com/Sevique or for more information on Sevique please visit us at http://www.sevique.com or call 800-695-8711.