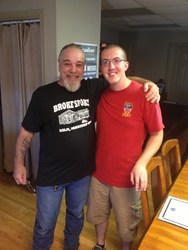 You did not give up on me and made sure that I was able to see another day.
(PRWEB) August 15, 2013
Acadian Ambulance Paramedic Jeremy Lininger had a surprise visit from a former patient recently.
John Warren was involved in a critical motorcycle accident in May and contacted Acadian so he could reunite with Lininger, who responded to the crash. After Warren was diagnosed with a head injury and placed on a ventilator, Lininger was also the paramedic who transported him from Terrebonne General to Thibodaux Regional.
Warren surprised Lininger at Acadian's Houma station, greeting him with hugs and tears. Together, they recounted that fateful afternoon.
"You did not give up on me and made sure that I was able to see another day," Warren said to Lininger. "You have touched me and my wife as well as other bike riders in the area because we know we will be taken care of in the event something like this was to happen to them."
Lininger says this was the first time that one of his patients wanted to meet him in person. "This is why I got into EMS and I feel this is what I was meant to do," he said.
Lininger was given a Meritorious Service Award for his outstanding patient care.
Acadian Ambulance is committed to their patients and their communities. They are an emergency and non-emergency medical transportation provider to Louisiana, Texas, and Mississippi.
Since 1971, Acadian has provided the highest level of emergency medical care and transportation possible. In the past decade, the company has expanded to include a diverse suite of services in health, safety, and transportation. Acadian's six divisions are Acadian Ambulance Service, Acadian Monitoring Services, Air Med, Executive Aircraft Charter Service, National EMS Academy and Safety Management Systems.