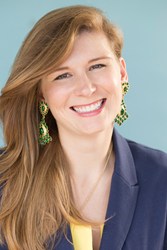 Lauren and Victoria bring a great mix of experience and energy to our communications department at a pivotal time in our company's growth trajectory. We are confident our team will help us get to the next level as a competitive managed service provider.
Fort Worth, Texas (PRWEB) August 15, 2013
Ben Tiblets, Co-President of Consuro Managed Technology, today announced the company hired Lauren Kwedar Cockerell as director of public relations, as well as Victoria Igbojionu as marketing coordinator. The two women join Consuro's in-house communications team, which includes Director of Marketing Courtney Summers and Art Director Lori McCormick.
Ms. Cockerell was previously vice president of Paige Hendricks Public Relations Inc. in Fort Worth, Texas.
"With a decade of experience at PHPR Inc., Lauren brings a heightened level of insight, knowledge, leadership and strategic thinking to our marketing and public relations team," said Mr. Tiblets. "As we grow our client relationships, expand into new markets and strengthen our partner alliances with companies like Dell and Microsoft, Lauren is the ideal person to further our growth."
A Fort Worth native, Ms. Cockerell is a graduate of Rhodes College in Memphis, Tenn., where she received a Bachelor of Arts in business administration with emphases in finance, marketing and English literature. While at Rhodes, she was a member of the women's varsity golf team and competed in the Division III NCAA Championship each year she played. Ms. Cockerell was also a member of the Alpha Delta chapter of Kappa Delta. Today, she is a member of the Greater Fort Worth chapter of PRSA, as well as the Fort Worth chapter of AAF.
Ms. Cockerell will work closely with the marketing department and Ms. Igbojionu, who first joined Consuro as a marketing intern while she completed her undergraduate degree at Texas Christian University. Together, the communications team supports Consuro's provision of managed technology services to an array of clients and industries across the state of Texas and beyond.
"Victoria immediately impressed us during her internship," continued Mr. Tiblets. "Not only is she poised, confident and driven, but she has real-world marketing, social media and SEO knowledge. Victoria now plays an important role in our online strategy and presence."
Ms. Igbojionu graduated from TCU with a Bachelor of Arts degree; she majored in strategic communication with an emphasis in advertising and minored in communication studies. Before she was on the Consuro marketing team, she worked in marketing for real estate offices, was marketing manager for TCU's student media and owned/operated a maid service company.
Kevin Valadez, Co-President of Consuro, added, "Lauren and Victoria bring a great mix of experience and energy to our communications department at a pivotal time in our company's growth trajectory. We are confident our team will help us get to the next level as a competitive managed service provider."
About Consuro
Founded in 2008, Consuro is an information technologies managed service provider (MSP) whose comprehensive Windows-based desktop and server management, network administration, computer hardware and software consulting, offsite backup, asset procurement, and other advanced data center solutions serve large and small business clients in many industries from offices in Fort Worth, Dallas, San Antonio, Houston and San Angelo, Texas. To learn more about Consuro, visit http://www.consuro.com, or follow Consuro on LinkedIn, Facebook, Twitter and Instagram.
###