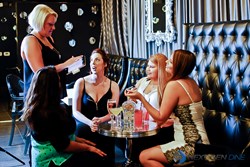 mobile point of sale that helps reduce order turnaround time, maximize staff efficiency and improves customer experience.
Las Vegas, Nevada (PRWEB) August 16, 2013
Prelag Partners LLC has launched a new mobile point of sale, Next Gen Dine that can help reduce order turnaround time, maximize staff efficiency, and improve customer experience all through a tablet or mobile device.
Next Gen Dine point of sale software is unique in the mPOS market. The mobility offered by the NGS allows for servers to take orders anywhere within the establishment, inside or outside. All that is needed is an active internet connection.
Along with the ability to take orders anywhere, servers and bartenders can take payments anywhere. This will give customers peace of mind knowing that their credit cards never left their sight.
Hostesses can take reservations directly on NGD. Once a reservation goes through, a text message notification is sent out to the customer for confirmation. When the reservation is ready, a text message is sent to alert the customer.
All orders placed are immediately sent out to the NGD kitchen display unit where the order will be prepped to maximize staff efficiency. Orders remain on the KDU until marked as completed. This will help reduce order turnaround time for a better customer experience.
Next Gen Dine cloud-based point of sale is the future of restaurant dining. For more information about the product or to find out how your restaurant can take part of Next Gen Dine, contact Paul Roberts at 1-877-342-2218 or paul(at)nextgendine(dot)com.
About Next Gen Dine
Next Gen Dine is a cloud restaurant point of sale software designed for the iPad. Restaurant owners can now capitalize on the benefits of a full-featured POS system for a fraction of the cost of a traditional POS. Due to the mobility offered by the software, employees can take orders directly at the table, take credit card payments at the customer's side, and drastically improve restaurant operating efficiency. Orders placed are sent directly to the appropriate prep station, therefore decreasing order turnaround time. Next Gen Dine also offers restaurant owners customer loyalty, gift card, social media, and fine-grained marketing tools.