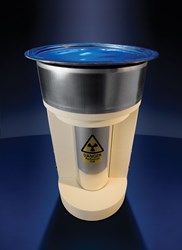 If the container can be transported over the road, we can manufacture a custom foam insert for it.
Tacoma, WA (PRWEB) August 16, 2013
Alan Pagni, General Plastics' supervising research and development chemist, will present recent study findings to the 2013 International Symposium on Packaging and Transportation of Radioactive Materials (PATRAM). This event, which takes place every three years, brings together experts from government, industry and research organizations worldwide to exchange information on safely packaging and transporting radioactive materials around the globe. It will take place August 18-23 at the Hilton San Francisco Union Square in San Francisco, Calif., USA.
PATRAM 2013 is the premier forum on these issues, and the only meeting in the world devoted entirely to this subject. Jointly sponsored by the U.S. Department of Energy, the U.S. Nuclear Regulatory Commission, and the U.S. Department of Transportation, it is being hosted by the Institute of Nuclear Materials Management (INMM). In addition to Pagni's presentation on Friday, August 23, General Plastics will feature its nuclear collision- and fire-protection foam for container linings at Booth #202 in the PATRAM Exhibit Hall.
Pagni supervises General Plastics' technical projects, which support the company's continuing advancements in chemistry-based solutions. He has spent 10 years in the polyurethane industry developing new products, improving manufacturing efficiencies, and managing products through the commercialization process. The study explores the key mechanisms responsible for the effectiveness of General Plastics' radioactive material packaging systems, and how to apply the most recent findings towards the design of better materials.
"We are delighted to participate in the industry's preeminent symposium, which fosters international cooperation through education and dialogue," said General Plastics President Bruce Lind. "The invitation for Alan to share his study findings and implications with such an influential audience is a remarkable opportunity to contribute our unique insights".
A four-decade history of successful protection
General Plastics' high-density polyurethane foam material has protected nuclear transportation packages from fire and collision since 1971. The company's rigid, closed-cell polyurethane LAST-A-FOAM® FR-3700 Performance Core Series foam products combine exceptional impact resistance with excellent fire protection properties.
The LAST-A-FOAM® FR-3700 Series outperforms wood and other polymeric materials in nuclear material applications. It offers proven long-term performance as an energy-absorbing and fire-insulation liner in radioactive transport or packaging containers. The formulation is specially designed to allow predictable impact-absorption performance.
In a fire, the foam can provide an intumescent char layer that insulates and protects hazardous materials, even when exposed to pool-fire conditions. PATRAM 2013 attendees will be able to observe live drop tests demonstrating the material's energy-absorption capabilities at the General Plastics booth.
General Plastics produces turnkey containers that are CNC-machined and assembled to customers' exact specifications. It can also supply FR-3700 Series foam for customers who prefer to build their own liners for Type A and Type B nuclear containers. Its custom-built protective liners for radioactive material transportation packages span the following types of containers:

Drum containers
MAP-12, OPUS
Travellers
TruPact I II III
UX-30 containers
Impact limiters
After 40-plus years of successful use, General Plastics' FR-3700 series has proven to be the most effective material for impact mitigation and fire protection for these applications. Energy, defense and medical customers all over the world depend on its unique properties, performance, quality, and lifecycle traceability to protect and transport their radioactive waste.
"If the container can be transported over the road, we can manufacture a custom foam insert for it," Lind noted. "We look forward to meeting with PATRAM attendees and helping them select the right foam density for their particular container transport needs."
For more information about General Plastics' foam for radioactive material shipping containers, download our reference guide.
About General Plastics Manufacturing Company
Tacoma, Washington-based General Plastics has been a leading innovator in the plastics industry for more than 70 years. The company develops and manufactures rigid and flexible polyurethane foam products, which include its signature LAST-A-FOAM® brand series and build-to-print composite parts. Through its network of distributors, General Plastics exports products to 25-plus countries for the aerospace and defense, nuclear containment, composite core, prototype and modeling, construction, dimensional signage, testing, marine, and renewable energies industries. General Plastics is certified to ISO 9001:2008/AS9100C and meets such demanding quality systems as NQA-1, Mil-I-45208A and Boeing Company D6-82479. Visit http://www.generalplastics.com.