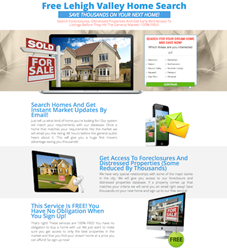 Most agents need our site. It actually generates leads.
Whitehall, PA (PRWEB) August 15, 2013
For a limited time, Real Estate Lead Specialists, a marketing company specializing in lead generation for real estate agents, is giving away customized installations of their high-converting lead generation website to any real estate agent wanting to take advantage, and at no cost to the agent.
When asked why he would simply give away such a valuable tool, Tom Rummel, owner of Real Estate Lead Specialists, gave a candid response:
"Because, frankly, most agents need our site. It's a site that actually generates leads. The vast majority of real estate agents' websites are designed completely wrong. There's too much information, too many options to click on, and no valuable call to action that would actually motivate a prospect to contact the agent. Consequently," says Rummel, "any prospect that actually visits the agent's site, clicks here or there, then leaves the site altogether, and the agent has no way of knowing anything about the person that just visited their site. And once their gone, they'll likely never come back."
Many real estate agents that work for a nationally known franchise are provided with an option of some cookie-cutter, templated website designs that allow their agents to have their own individual website already. So why would they need another site?
"There are two primary reasons why realtors need a site like this," replies Rummel. "The first is, as I mentioned, most real estate agent sites don't have lead capture as their primary mission. The second reason is that an agent should own their own site. Those template websites provided by the franchises are owned by the franchise, meaning if the agent switches to a different company, they lose that site and any other prospects that might have gone there from their previous marketing efforts."
"Let's face it. Even the best real estate agents occasionally switch companies, sometimes multiple times," Rummel continues. "Why not own your own site, that you can use in your marketing, that will follow you around regardless of who you work for? It's just the most logical solution."
While Real Estate Lead Specialists is a relatively young company, the people behind it are no novices to the real estate industry. "My father has been an agent and broker for close to 40 years, and I've been a real estate investor for over 21 years, and still invest today," says Rummel. "During that time I've bought and sold well over 200 homes, and I've seen the changes in marketing over that time and online is the media that most people now choose to start looking for answers. So if you're not able to be found online in some way, your really hurting the long-term viability of your business."
Rummel talks about getting the word out to as many agents as he can, "The lifeblood of a real estate agent is a consistent flow of new real estate leads. We truly want real estate agents to succeed. We also want to grow our network within the real estate community. What better way to do that than to give something of extreme value away at no cost to that community."
If you're an agent and would like to take advantage of this limited-time offer, you can get your very own no cost website at: http://RealEstateLeadSpecialists.com/free-lead-gen-site
About Real Estate Lead Specialists:
Real Estate Lead Specialists is a growing company offering real estate marketing services to agents throughout the country. They specialize in lead generation through marketing on the web, social media, mobile and other platforms, and creating automated follow up campaigns to stay in contact with prospects.