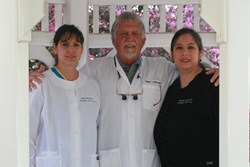 We're happy to now provide this advanced technology to treat a variety of gum infections and diseases that contribute to
patients' better oral and overall health.
Athens, GA (PRWEB) August 15, 2013
Dr. Robert Pate recently introduced LANAP-Periolase (Laser Assisted New Attachment Procedure) at his practice in Athens, GA for a less invasive treatment of gum disease. Dr. Pate is one of just a few dentists in the Athens, GA area who is comprehensively trained and licensed to implement LANAP. This cutting-edge technology eliminates common fears patients have regarding dentistry, and the procedure is not a hindrance to patients' busy lifestyles.
LANAP-Periolase is made by Millennium Dental Technologies, Inc. (MDT). MDT pioneered laser technology for dentistry and spent more than a decade developing, through thousands of clinical trials, the successful treatment of Periolase by LANAP.
"I, along with my staff, care deeply for our patients' overall health and wellbeing," said Dr. Robert Pate, general and cosmetic dentist in Athens, GA. "We're happy to now provide this advanced technology to treat a variety of gum infections and diseases that contribute to patients' better oral and overall health."
The Center for Disease Control reports nearly half of adults in America have periodontal disease. Periodontal disease is a type of disease that affects the periodontal tissues that surround the teeth. A variety of factors affect the periodontal tissues including plaque- induced inflammatory abrasions and gingivitis. Swollen, bleeding, tender or bright red or purple gums are just a few of the signs and symptoms contributing to gingivitis and periodontal diseases.
For the treatment of gum disease, LANAP is the most efficient and effective procedure. Conventional gum disease treatments are considerably invasive, requiring incisions, and as a result, more time is needed to heal. Dr. Pate and his staff perform LANAP-Periolase to treat infections and diseases around the teeth and on the gums, using a pulsing laser. The laser eliminates the requirement for needles, cutting and stitching and as a result, there is no pain and recovery time is essentially reduced. After LANAP-Periolase, the gum tissue quickly regenerates and heals.
Dr. Pate is a cosmetic dentist and offers dental implants and sedation dentistry for patients in Athens, GA seeking aesthetically beautiful teeth without pain and anxiety. Dr. Pate understands that emergency situations occur and is an emergency dentist, who is ready and willing to resolve emergency dental situations that may occur. He practices TMJ dentistry in Athens, GA for patients who may experience headaches, migraines and/or a series of other TMJ related complications.
Before Dr. Robert A. Pate graduated from The Medical College of Georgia, School of
Dentistry, he earned his Bachelor's Degree at The University of Georgia. He has nearly 35 years of experience in dentistry and has spent his career in dentistry continually expanding his knowledge in innovative areas. He has earned fellowships with the Academy of General Dentistry, International Congress of Oral Implantologist and American Society of Dental Anesthesiology.
For more information about LANAP or Dr. Pate and the dental services at his practice, please visit http://www.AdvancedAthensDentist.com and http://www.youtube.com/watch?v=S_HT2x5UDiI.