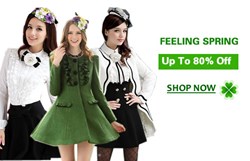 (PRWEB) August 15, 2013
Since 4leafcity.com, the online supplier of women dresses and accessories, released its exquisite collection of women's dresses (see: http://www.prweb.com/releases/2013/7/prweb10958995.htm), the market response is very good. Recently, the company has launched a new and dazzling collection of cheap Clubwear dresses. This online store is already quite famous for its leather jackets for men (see: http://www.4leafcity.com/product-men-s-outerwear-jackets-009003.aspx).
The addition of hot new styles of club dresses will add a lot to the company's reputation as one of the leading dress makers in the industry. The Clubwear dresses are available in varying styles; sexy short outfits, metallic silver and metallic golden dresses, bare shoulder outfits, sequined dresses and more. The colors of these dresses are as vibrant and eye catching as their style. Every dress is manufactured with care and professionalism that makes it fine and perfect for women who want to outsmart every other lady.
In addition to the hot dresses addition, the company is giving a 50 % discount on every checkout of club dresses. This is a great opportunity for customers to make the best deals. The company spokesman is reported to have said, "I am very excited to introduce the promotion to our clients. Dazzle yourself with our collections of finest Clubwear dresses. All our Clubwear dresses will bring you countless new looks with a change of a dress or a necklace. We have a lot of new designs in stock, and they are available at affordable prices now. Make sure you don't miss out as stocks will not last forever."
4leafcity.com is an online store supplying women dresses, men's clothes and various different accessories for men and women. The website is known for its cheap products and fine services. More details can be found at http://www.4leafcity.com/