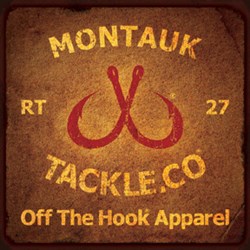 "Longevity is core to our design and construction along with style and comfort. Breathability and movement of the fabric allows for long hours of hard fishing and sun protection."
Hewlett, NY (PRWEB) August 17, 2013
For the third year in a row Montauk Tackle Company's Performance Apparel will be the official apparel sponsor of the 2013 Bisbee's Black and Blue tournament to be held this October 22-27, 2013.
Montauk Tackle Company's fishing shirts are considered the most comfortable and longest lasting shirts in the industry. "Longevity is core to our design and construction along with style and comfort. Breathability and movement of the fabric allows for long hours of hard fishing and sun protection." Says Ron Cesark, President of Montauk Tackle Company, Inc.
This year MTC is adding a woman's long sleeve crew neck and youth long sleeve crew neck Tournament Shirt that will be available at the event. MTC offers hard working technical fishing performance shirts with Classic American Design. All of MTC's Fishing Shirts incorporate a 50UPF sun protection, moisture wicking transporters for quick drying, stain release technologies and an anti-microbial treatment that prevents odor-causing microbes.
Montauk Tackle Co.'s apparel is 100% made in the U.S.A. MTC fabrics are milled in California, and shirts are cut and sewn in New York City. Montauk Tackle Co.'s performance Lightweight fabrics come in a few styles, (Men's Crewneck, Scuba Stitched, Performance Polo, Performance Button Down Dress Shirts and Women's Hoodie, ¼ Zip Pull Over and Long Sleeve Crew Neck).
Bisbee's Black & Blue Tournaments have been taking place in the Los Cabos region of the Baja Peninsula in Mexico for over 30 years. With a purse of over $4 million, this tournament is regarded as the richest fishing tournament in the world. This is a tournament that any serious angler should no
About:
Montauk Tackle Company, Inc. is a privately held company founded in 2008 on Long Island New York. Montauk Tackle Company is an American Built Performance Lifestyle Apparel Brand committed to resourcing and manufacturing in the U.S.A.