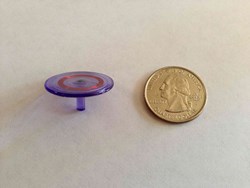 We want to take a page out of VC Tim Draper's playbook and focus on our brand, network, and reputation as we launch Birdie.
Boston, MA (PRWEB) August 18, 2013
Sensorstream is pleased to announce the release of its active use Near Field Communication (NFC) golf ball marker called Birdie for the 2013 PGA Golf Expo in Las Vegas at The Venetian Resort August 19-21. The waterproof, coin-sized marker is encapsulated in a DuPont polymer case with an embedded NTAG203 NFC microchip and coil antenna. Birdie can be programed using virtually any NFC-enabled Android device and is available in six translucent colors; cherry, lime, lemon, orange, blueberry, and grape.
"We're really looking forward to meeting all the golf industry professionals at the 2013 PGA Golf Expo," said Sensorstream's founder Tom Rapko. "This will give us an opportunity to help establish Birdie's brand awareness and also build our sales network with some of the largest golf manufacturers in the country."
Sensorstream plans on discussing Birdie's initial development goal of a marker that would be a cool fusion of technology and utility, its USA veteran-owned manufacturing process, and finally its experience as a start-up company bootstrapping an innovative product in today's business environment. Given that there are over 250 professional golf manufacturers attending the annual expo, Sensorstream will be in good company.
Also featured on Sensorstream's agenda, is the Buck-a-Birdie wholesale distribution program. This program will offer resellers, including independent golf shops, golf courses, and major equipment manufactures, the opportunity to purchase Birdie for a wholesale cost of $1 per unit for orders over 1,000 units. Free samples are currently available on the company's website.
"With a suggested retail price of $5 per Birdie, this is a great opportunity for independent resellers to capitalize on the product launch. We wanted to offer Birdie to a wide range of potential buyers and this expo is an ideal environment to meet all the industry's leading professionals. A classic win-win situation," Tom added.
Birdie's "wow" factor is its ability to store and transmit data wirelessly without a battery in the device the size of a coin. It can integrate the functionality of a credit card, business card, or even a set of keys.
"The greatest challenge in the past has always been a lack of programing devices," commented Tom. "Now virtually any NFC-enabled Android device can program and read a Birdie using one of the many free apps available on the aptly named Google Play platform."
Sensorstream and Birdie are registered trademarks; the Birdie NFC Golf Ball Marker is currently patent-pending. Sensorstream is a privately held veteran-owned start-up company based in Boston focused on the design of active use and wearable consumer electronic devices. All images and content copyright Sensorstream.