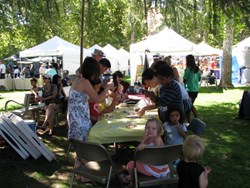 Art runs in my blood.
Kernville CA (PRWEB) August 16, 2013
The Sierra Arts & Crafts Festival runs from Saturday August 31st, Sunday September 1st from 9am – 5pm then Monday September 2nd from 9am – 2pm.
"Art runs in my blood," said Teri Vellutini, while she was being interviewed by the Kern Community Foundation earlier in July. KRVAA had just been awarded a $1,000 unconditional grant to help further projects.
KRVAA has a rich history serving the community since 1962. Teri's mother, Emily Diggles is a long standing member, community builder and the niece of one of the founding members of the organisation. KRVAA has conducted the Sierra Arts and Crafts Festival for 48 years and played host to thousands of arts and crafts enthusiasts, artists and vendors year after year.
Now Teri has taken up the mantle of President. She is very optimistic about recent developments including $10,000 in Art Education Funds and a new website that serves as an artist showcase and marketplace. http://www.krvaa.org. This web site serves as a vehicle for artists to show their work for sale to the public. http://www.krvaa.org/index.php/members/artist-of-the-month
The Kern River Valley Art Association is a private non-profit public benefit organization dedicated to supporting artists and crafts people in the community. KRVAA works to bring local art to a greater audience, supporting, music, drama, dance, and literature. There is an active program of public and private murals being painted throughout the Kern River Valley.
The Kern River Valley is located in the Southern Sierra Nevada Mountains. It is a four season resort community and the 7,000' peaks that surround the valley are a constant inspiration to our community. It's no wonder this was one of the most sought after movie locations for films like "Stagecoach" 1939, with John Wayne and "The Treasure of Sierra Madre" 1948, with Humphrey Bogart and Walter Huston. Who can forget "Billy Jack" 1971, with Tom Laughlin or "Thelma & Louise" 1991, with Geena Davis, Susan Sarandon. Contact: Teri Vellutini, President (760) 379-6162.