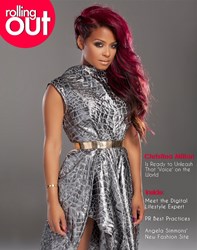 I have a lot of fun doing what I do.
Altanta, GA (PRWEB) August 20, 2013
Latina pop princess Christina Milian has been making quite an impression. She was already pumped about the imminent release of her upcoming album. But her gig on NBC's "The Voice," as their social media correspondent, has sent an extra shot of adrenaline coursing through her veins to storm the stage when her album releases.
"I have a lot of fun doing what I do. At the end of the day, l love to talk, I love music; I love watching artists really striving and really reaching their dreams. … I love the coaches. We have an awesome set and I feel very fortunate that my Twitter account and my Instagram and anything online just continues to grow constantly because of the show," she says in an interview with Terry Shropshire, rolling out's editor-at-large.
On her new label deal, "I have a good team around me. With this album, I have Young Money and this is great because they are the first team of people that understood that I needed a family, that I don't feel like I'm out here on my own."
Visit rollingout.com to read the interview in its entirety. Be sure to check out the amazing photo shoot and exclusive video footage with celebrity photographer DeWayne Rogers, wardrobe styling by Olori Swank, hair by Randy Stodghill and makeup by Rokael.
About rolling out Magazine:
Rolling out, the nation's largest free urban weekly, is a digital and print magazine that focuses on the black experience in response to entertainment, politics, fashion, culture, sports and lifestyle points of interest. Headquartered in Atlanta, rolling out is positioned as the voice for the African American experience, using its newspaper as a platform in the marketplace to express urgency for education reform, and to document entrepreneurial endeavors and other relevant issues in the Diaspora. For information on rolling out, please log on to rollingout.com.