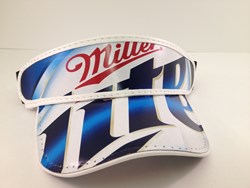 25% off! Wow! Get your BeerHat now!
Grand Island, New York (PRWEB) August 19, 2013
Now is the best time to get a BeerHat for Labor Day Weekend. BeerHats.com is excited to announce a special for online orders until Sept. 6. Customers will receive 25 percent off any order online when they use the code: Party.
Labor Day Weekend is traditionally summer's last big hurrah. What better way to enhance the celebration of the nation's workforce than with a Beerhat? Show off a new hat for friends at barbecues, parades and festivals.
BeerHats.com has a BeerHat for everyone. In the online shop, customers will find cowboy style hats, top hat styles, box top styles and the newest edition: visors. Made from brand new beer cases, purchased directly from the beer companies, these hats are professionally made and durable. BeerHats.com holds licensing contracts with the MillerCoors Brewing Company, The Pabst Family of Breweries, and Molson Canada, so beer enthusiasts will find hats featuring their favorite beers.
Visit the BeerHats.com website to purchase a new hat and take advantage of the special. Don't forget, Football Season is just around the corner, now would also be a great time to get a BeerHat for all the upcoming tailgating.
About the Company:
BeerHats.com is basically a 'Mom and Pop' shop, but they can produce five or 5,000 hats in a very short amount of time depending on specific needs. They take customer service very seriously and will go out of their way to make customers happy with their products and service.
The original idea for BeerHats came up during a country festival in 2002 when the owner's husband witnessed someone with an empty case of beer on his head and he had a "lightbulb" moment. Cyndy loves to hear from people who love the hats and have great stories about them. Don't be shy to share stories and pictures. They might even end up on the website or Facebook page. For more information, please visit http://www.beerhats.com/.