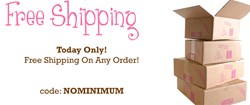 I used the Beauty Place's tutorial on at home lip scrub and loved the results so much I bought a tub.
(PRWEB) August 17, 2013
The first tip may seem like a no brainer but a lot of women avoid it. Sign up for a beauty website's online newsletter. Sales will be targeted specifically based on past purchases, and a subscriber will be able to score known and loved beauty products for less when remaining loyal. If sticking to just one brand or product seems mundane, then read onto the next tip: Use those samples! Beauty companies spend time and money providing the most appropriate samples to add to orders. Use the samples beauty experts recommend. These are a free way to extend the time before buying another bottle, and increase the chance of finding an item that really works without buying the full size bottle.
The third and fourth tip go hand and hand: reading online reviews of the products that are being considered, and buying specialty products meant for individual skin, hair, and beauty concerns. If taming curly hair is a concern, buy shampoo and styling products meant to do just that. And if oily skin is a nightmare, confirm concerns will be addressed by products in question before buying.Take it one step further and read the reviews of the products claiming to address concerns and a customer will get real life proof that this item is worth the money.
The fifth tip requires a little hands on, dirty work. There are endless amounts of DIY techniques that can be achieved in the privacy of a home. Every DIY was born in the some beauty maven's bedroom when staring too long at a regular household item, and therefore a purchase usually isn't necessary. At home recipes can expose an adventurous beauty enthusiast to lip scrubs, facial masks, and hair treatments before taking the plunge and buying full size bottles.
The sixth and seventh tips contradict one another so chose which to follow based on personal preference and shopping style. Six is to spread beauty purchases out so products don't run out all at once. Try to purchase shampoo one week, and conditioner at another time. By adding a little olive oil to conditioner, it will last longer and condition deeper. As long as nothing shakes up this beauty routine, it will maintain itself. If convenience is of utmost importance, buy in bulk instead. Once signed up for an online beauty supply newsletter, free shipping and heavy discount offers will be readily available. Wait until one pops into email and go beauty product crazy!