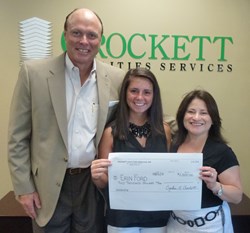 Bowie, MD (PRWEB) August 16, 2013
Crockett Facilities Services, Inc. (CFSI), a leading provider of building operations and maintenance, mechanical contracting and HVAC services to government and commercial clients, today announces that Erin Ford, a recent graduate from South River High School in Edgewater, Maryland, received the Esparza Crockett Presidential Scholarship for $2,000. This marks the third year that Crockett Facilities Services has funded a scholarship, available to employees and children/grandchildren of CFSI. Applicants must be enrolled in or accepted for admission to an accredited college or university as a full-time student seeking an Associates or Bachelor's degree.
Erin, daughter of CFSI business development manager Mike Ford, will be attending Shepherd University in the fall, majoring in nursing.
"Erin's academic success, coupled with her extra-curricular activities, made her the ideal recipient for this award," commented Cynthia Crockett, president of Crockett Facilities Services. "We value higher education and are happy that we can contribute towards her future."
About Crockett Facilities Services, Inc.
Crockett Facilities Services, Inc. (CFSI), a woman-owned mechanical contractor with an active facility clearance, delivers building operations and maintenance, mechanical contracting, and heating and air conditioning services to commercial and government clients. CFSI's preventive maintenance programs, encompassing mechanical, electrical, energy management and HVAC services, help business owners, property managers, and data center /IT managers to reduce energy costs, extend equipment life, maintain tenant comfort, and decrease downtime. For more information, please visit http://www.crockett-facilities.com.