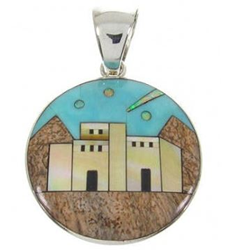 Nowhere does the art of inlay produce more beauty or require more skill than in the production of jewelry pieces.
(PRWEB) August 15, 2013
While inlay techniques have been utilized across many different cultures and in many different forms, including wood, metal, mother of pearl and precious stones, or a combination of several materials, nowhere does the art of inlay produce more beauty or require more skill than in the production of jewelry pieces.
Now, a brand new site is taking an in-depth look at beautiful inlay jewelry.
"Because of the relatively small size of most inlay jewelry, it requires a steady hand as well as precise attention to detail to produce the designs," says Gia Thomas, who represents the new website inlayjewelry.net. "For example, Zuni channel inlay pieces, which traditionally feature elongated natural stones set in grooves or channels formed in metal bands, require an artistic eye just as much as stunning modern figurative scenes which employ polished bits of shell, gemstone or metal to create a picture."
"Newer pieces are sometimes defined by edging or stripping of various thin wire," Thomas notes, "forming a kind of frame to delineate various colors and patterns in the work." Numerous award-winning American artists work in this medium, she says, and representative works are featured in museums, galleries and shops throughout the world, not only in the American Southwest.
Inlay jewelry, according to Thomas, is popular for many reasons. "The variety is impressive, appealing to teenagers who buy hair clips as well as to businesswomen who want a colorful but whimsical pin to wear on a suit jacket. Men, as well," she adds, "appreciate the striking good looks in inlay buckles, as well as such accessory items as key tags, phone cases and business card holders."
Even though inlay jewelry produced by Native American artists sets a certain standard for artists working in the medium, the technique is often employed by artists working in non-traditional forms as well. Some of the best jewelry artists are beginning to branch into other decorative arts, such as sculpture, home decor, and office accessories to showcase their inlay talents.
"Because the public is so supportive of young artists today," continues Thomas, "there is an increased focus on creating opportunities for them to display their work, and to gain acclaim from appreciative collectors. The public realizes that we must nurture and guide these emerging artists, so that they can hone their skills and create treasured pieces for the rest of us to enjoy," she says.
To that end, Thomas said that she hopes the newly-created website will serve as a resource for public information about the topic, and continue to offer a forum for inlay jewelry artists.
For more information, please visit InlayJewelry.net.