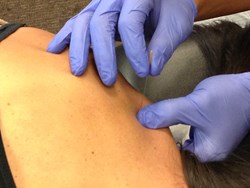 Peoria, AZ (PRWEB) August 17, 2013
Swing Physical Therapy specializes in Orthopedic and Sports Medicine rehabilitation, with backgrounds in treating athletes, including professionals, pre/post operative patients, and general orthopedics. Swing Physical Therapists come from a variety of educational backgrounds as well, with providers having a Doctorate in Physical Therapy, an American Board Certified Orthopedic Specialist, and Licensed Athletic Trainers.
At Swing Physical Therapy, patients are provided an enjoyable, relaxed atmosphere where you can trust you are in the hands of highly qualified staff to maximize your outcomes. Their aim is to provide the best care based on the most up to date evidence based medicine and best practices with our focus on getting all people back to where they want to be.
Our mission is to exceed our customers' expectations by providing high quality care, restoring function and optimizing outcomes, all while providing an environment of professionalism, teamwork, communication and trust. Evidence based medicine treatment is a priority. Grade IV laser therapy from LightForce Therapy Lasers and Dry Needling are interventions being integrated into the quality treatment provided at Swing Physical Therapy.